Exclusive
Feds Now Investigating Sandusky Pedophile Ring, Possibly Shared Boys With Others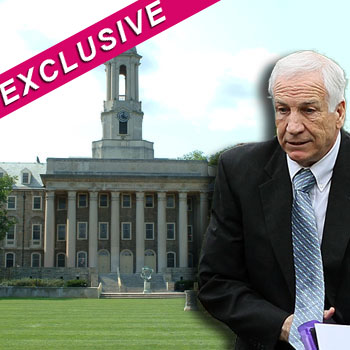 By David Perel - Executive Vice President/Managing Editor RadarOnline.com
New explosive child sexual abuse charges against Jerry Sandusky and Penn State are being investigated by federal law enforcement officials, RadarOnline.com has learned exclusively.
Both the FBI and a criminal investigative division of the United States Postal Service are looking into the possible existence of a pedophile ring that involved Sandusky sharing boys with other men connected to Penn State. Sandusky was recently convicted on 45 counts of child sexual abuse.
Article continues below advertisement
"Investigators have interviewed at least one man who claims to have knowledge of Sandusky and a very prominent man, with strong ties to Penn State, both sexually abusing a boy," a source familiar with the situation told RadarOnline.com.
Criminal investigators from the United States Postal Inspectors are involved because sexual material involving underage boys may have been transmitted through the mail. The source says that the postal service seems to be leading this investigation, although RadarOnline.com has not confirmed that information.
"The investigation is in its early stages," the source added. "They have not yet cast a wide net but it is ongoing and it is serious."
Sandusky, 68, was the defensive coordinator for Penn State and was accused of sexually abusing 10 boys during 15 years. Many of the victims were from the Second Mile charity, which Sandusky founded to help troubled youth.
"The new investigation is also looking at if boys from the Second Mile charity were shared by Sandusky with other men," the source told RadarOnline.com. "The name of at least one very rich and powerful man connected to the university has come up in this new investigation."
Article continues below advertisement
Repeated calls by RadarOnline.com to one man recently interviewed by the feds have not been returned.
It is not known if Penn State is aware of the new investigation.
A spokesperson for the criminal division of the United States Postal Inspection Service told RadarOnline.com: "We are not able to comment on anything at this point."
Stay with RadarOnline for more information on this developing story.
RELATED STORIES: