Ex-FBI Director: Joe Paterno, Penn State Covered-Up Jerry Sandusky Sex Scandal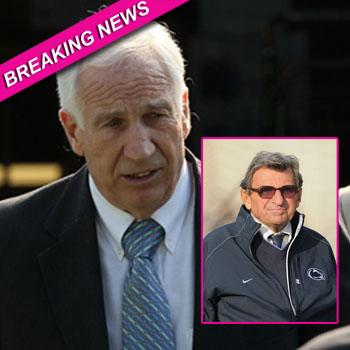 Late Penn State football coach Joe Paterno "concealed critical facts" and "showed no concern" toward a victim in the molestation scandal involving his longtime underling -- and now-convicted pedophile -- Jerry Sandusky, according to a 267-page stinging report from an eight-month internal investigation launched by the university's trustees.
The report, which spans more than 100 pages, was based on more than 400 interviews with those connected to the university and its programs. Conducted by former FBI director Louis Freeh, it claims that the late coach -- and Penn State officials including president Graham Spanier, athletic director Tim Curley and vice president Gary Schultz -- "failed to protect against a child sexual predator harming children for over a decade."
Article continues below advertisement
Freeh said prior to releasing the report to the public Thursday: "Our most saddening and sobering finding is the total disregard for the safety and welfare of Sandusky's child victims by the the most senior leaders at Penn State."
DOCUMENT: Read The Entire Penn State Sex Scandal Report
This excerpt of the report details the extent of the cover-up:
"In order to avoid the consequences of bad publicity, the most powerful leaders at the university - Spanier, Schultz, Paterno and Curley - repeatedly concealed critical facts relating to Sandusky's child abuse. The evidence shows that these four men also knew about a 1998 criminal investigation of Sandusky relating to suspected sexual misconduct with a young boy in a Penn State football locker room shower. Again, they showed no concern about that victim. The evidence shows that Mr. Paterno was made aware of the 1998 investigation of Sandusky, followed it closely, but failed to take any action, even though Sandusky had been a key member of his coaching staff for almost 30 years, and had an office just steps away from Mr. Paterno's.
Freeh continued, "At the very least, Mr. Paterno could have alerted the entire football staff, in order to prevent Sandusky from bringing another child into the Lasch Building ... Spanier, Schultz, Paterno and Curley also failed to alert the Board of Trustees about the 1998 investigation or take any further action against Mr. Sandusky. None of them even spoke to Sandusky about his conduct.
"In short, nothing was done and Sandusky was allowed to continue with impunity."
Article continues below advertisement
Paterno, who never spoke with Freeh in the investigation, died at 85 in January after a battle with lung cancer, two months after his firing from Penn State.
Paterno told the Washington Post shortly before his death, "I never heard of, of, rape and a man ... I just did what I thought was best. I talked to people that I thought would be, if there was a problem, that would be following up on it.
"I wish I had done more."
Sandusky, convicted of 45 criminal counts in the sexual abuse of 10 boys, is awaiting sentencing.
Before the release of Freeh's report, Joe Paterno's son, Jay Paterno, spoke out. "We've never been afraid of the truth,'' said Joe Paterno, a former assistant coach, in an exclusive interview on Thursday's TODAY. "Let the truth come out and go from there.''
Visit msnbc.com for breaking news, world news, and news about the economy