Exclusive
Feds Question Another Man About Possible Sandusky Sex Ring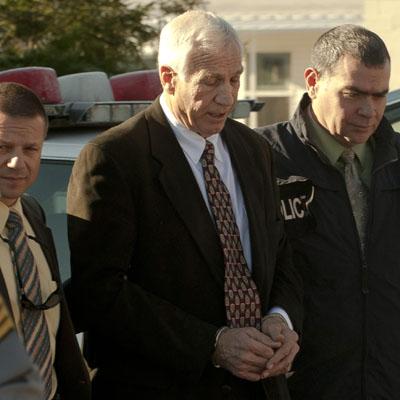 By David Perel - Executive Vice President/Managing Editor RadarOnline.com
Federal investigators have questioned another man about a possible child abuse sex ring involving Jerry Sandusky and a Penn State booster, RadarOnline.com is exclusively reporting.
We broke the story that U.S. Postal Inspectors and the FBI questioned a man who alleges he has direct knowledge of Sandusky and a prominent Penn State booster engaging in illegal activity with children.
Article continues below advertisement
The feds are also investigating if Sandusky shared child pornography with others and sent sexually suggestive letters to several of his victims.
But the most shocking allegation is one made during an interview conducted within the past several weeks, a source familiar with the situation tells RadarOnline.com exclusively, and feds have now followed up on what they were told.
In that interview a man claimed to be an eyewitness to sexual abuse of boys by both Sandusky and a prominent Penn State booster. Both the FBI and Postal Inspectors were present during the interview and the man gave them details including the time and place.
Now RadarOnline.com has learned exclusively that the feds are following up on the allegation and have questioned at least one other man about them.
"After the interview with the man who claims to be an eyewitness, law enforcement questioned another man involved in the case and asked if he knew anything about it," the source said.
"They are taking the allegation seriously and they are continuing to pursue it. The witness did not know if the boys he saw are any of the already identified victims."
Article continues below advertisement
Jerry Sandusky's Adopted Son Considered Suicide After Years Of Abuse
While some headlines about the new investigation have centered on possibly seductive letters Sandusky sent to his victims and child porn sent through the mail, the even more sickening allegations from the eyewitness could lead to criminal charges against another Penn State-affiliated man and the feds are pursuing the lead diligently, the source reveals.
"They are starting with the known victims in trying to run this down," the source says, "because unfortunately the eyewitness does not know who the boys are.
"But the eyewitness did provide an exact place and time, details that the feds are trying to check.
"This interview did not take place in the state of Pennsylvania and there are documents linking the eyewitness to the man he claims abused children with Sandusky. There is enough evidence that this is being taken very, very seriously."
Article continues below advertisement