Exclusive
Penn State Board Vote Ratifying NCAA Sanctions -- Canceled At Last Minute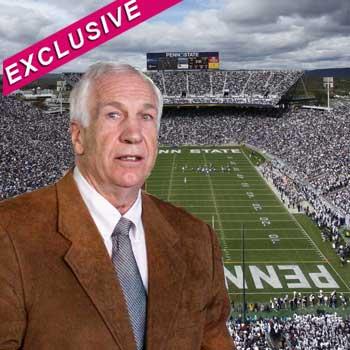 The Penn State University Board of Trustees had a phone meeting scheduled for 5 pm EDT Sunday specifically to ratify the NCAA sanctions imposed on the school in the wake of the Jerry Sandusky sex abuse scandal. That vote was canceled just hours before it was to take place, RadarOnline.com is exclusively reporting.
In an email sent to the Trustees who would be calling in for the historic vote, and obtained exclusively by RadarOnline, an unidentified "technical legal issue" was blamed for the "No Vote."
Article continues below advertisement
No Vote this evening due to a technical legal issue. Please refer to Joel Myers email Friday to the BOT regarding this issue. However, the call will still be held and we will hear from Gene Marsh, PSU counsel to the NCAA; Rod Erickson regarding the Consent Decree; Steve Dunham, PSU recently hired General Counsel, regarding Dr. Erickson's authority to sign the Consent Decree; Ken Frazier regarding the Freeh Report; Richard Edelman regarding Public Relations matters; and then the Trustees, in alphabetical order, can ask questions and/or make brief statements. I have no further information to share at this time.
The reason for the cancelation, RadarOnline.com has learned, is that the Trustees were not given the required amount of time between when they were notified of the vote and when the vote would be taken. It's important they do everything by the book because a number of the Trustees aren't on board for agreeing to the sanctions without a fight, a source tells us.
Many Penn State Trustees are angry that the school so readily accepted the NCAA sanctions which included a $60 million fine and suspension of its football team from Bowl play for the next four seasons. A legal appeal may be in the works, RadarOnline.com has learned.
Article continues below advertisement
The sanctions came as a result of an internal investigation into how the University handled Jerry Sandusky's years of molesting children.
Sandusky was assistant coach to legendary head football coach Joe Paterno, who died in January, two months after he was fired.
Sandusky was later convicted of 45 charges of sexual assault and is expected to spend the rest of his life behind bars.
As RadarOnline.com was the first to report, the FBI has now opened a new investigation into the possibility that others were involved with Sandusky in a possible child porn ring.