Jerry Sandusky Will Be Able To Watch Penn State Games In Prison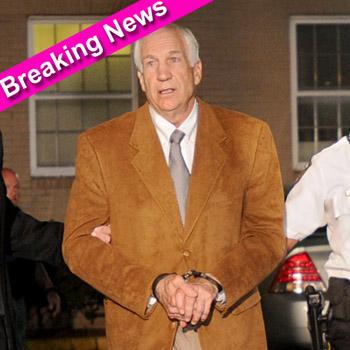 By Amber Goodhand - RadarOnline.com News Editor
Former coach Jerry Sandusky will be sentenced on Tuesday for his 45-counts of child sexual abuse and RadarOnline.com has learned that he'll likely have access to nearly 15 channels in prison and will be able to watch Penn State football games!
Sandusky, 68, will be serving a long-term prison sentence in the Pennsylvania Department of Corrections and even his own attorney believes he will probably pass away while serving.
Article continues below advertisement
Once sentenced, Sandusky will be sent to the Camp Hill state prison near Harrisburg, the AP reports, where he will be subjected to a couple weeks of mental and physical health testing and will be treated as needed.
Defense attorney Joe Amendola doesn't think Sandusky will have a problem in prison because he's a sociable, nice guy.
"Jerry is a very likable guy -- he gets along with everybody," Amendola said last week.
"He's a model inmate. He doesn't cause problems, he's sociable, he's pleasant."
Sandusky will be assigned a security risk level after his stint in Camp Hill and he will then be sent to his home prison.
"My guess is he'll wind up in a minimum-security facility, and probably a facility for nonviolent people," Amendola said.
Whichever prison Sandusky ends up at, he will receive two hot meals per day and he's allowed to bring his wedding band, a watch valued at $50 or less, dentures and eyeglasses.
Article continues below advertisement
Sandusky will be allowed to purchase a 13-inch television for his cell and will get up to 15 channels for $15 per month, which include all the major networks but no R-rated content — meaning when Penn State airs on ESPN or another network he gets, he can watch the games.
If Sandusky chooses to work in prison, he will likely be in the kitchen or on janitorial duty where he'll make anywhere from 19 to 51 cents per hour.