Victim #1 In Jerry Sandusky Sex Abuse Trial Signs Book Deal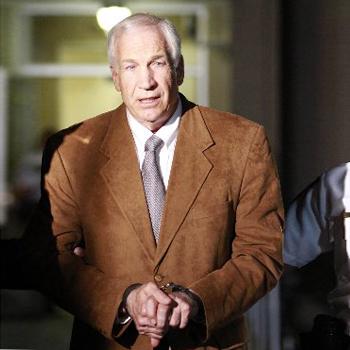 A key witness -- simply known as Victim #1 -- in the scandalous child sex abuse trial against former Penn State assistant football coach Jerry Sandusky has signed a book deal and will soon go public in his first network television interview.
Ballantine Bantam Dell announced Thursday that the book, Silent No More: Victim #1's Fight For Justice Against Jerry Sandusky, will be released on Tuesday, October 23. The memoir will be co-written by the victim's mother and psychologist.
Article continues below advertisement
Victim #1, who's now 18-years-old, will reveal his identity on the day of the book's release in an interview with ABC News.
Sandusky ,68, allegedly fondled Victim #1 and performed oral sex on him multiple times. The teenager first alerted authorities in 2008 and helped launch the investigation leading to Sandusky's conviction in June on 45 counts of child sexual abuse.
He remains jailed awaiting sentencing October 9.