Jerry Sandusky Maintains Innocence In Bizarre Letter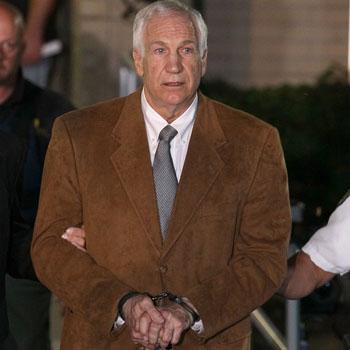 Jerry Sandusky is still playing the victim.
The former Penn State coach, convicted in June on 45 counts of child sexual abuse involving at least 10 boys from 1994 to 2009, wrote a short letter on a scrap of paper to the Citizen Voice newspaper of central Pennsylvania, saying he's trying to "learn from, grow from, and endure the struggles" he's faced since the scandal broke.
In the letter, dated December 18, the disgraced coach declined a formal interview with the paper, but wrote that "justice and fairness were not a focus" in his trial.
Article continues below advertisement
"Right now, our focus is on appeal. Time is much to learn, issues and information not presented," wrote Sandusky, who was sentenced to at least 30 years in prison. "Nobody, who covered the case and reported it had the time or took the time to study the allegations, the accusers, the inconsistency, and the methods."
He also wrote out his philosophy -- in acronym form -- to the word ENDURE.
E -- Embrace each day as a gift