Former Penn State President Charged In Jerry Sandusky Sex Abuse Case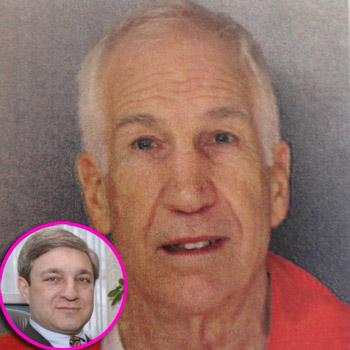 By Debbie Emery - RadarOnline.com Reporter
The aftershocks from the Jerry Sandusky child abuse case continued on Thursday when former Penn State president Graham B. Spanier was charged with covering up molestation allegations against the now imprisoned assistant football coach.
Spanier became the third official to be accused of crimes in the alleged cover-up after being charged with perjury, obstruction, endangering the welfare of children and conspiracy, reported Fox News.
Article continues below advertisement
Prosecutors also added additional counts against former administrators, Timothy M. Curley and Gary C. Schultz, who had previously been charged with lying to the grand jury investigating the Sandusky scandal.
"This is about three powerful and influential men, three men who used their positions at Penn State to cover-up and conceal the activities of (Sandusky). This was not a mistake by these men, this was not an oversight," said state Attorney General Linda Kelly following the latest development.
"It was not misjudgment on their part. This was a conspiracy of silence by top officials to actively conceal the truth," stated Kelly. "They essentially turned a blind eye to the serial predatory acts committed by Jerry Sandusky."
As RadarOnline.com previously reported, Sandusky, 68, was found guilty in June of 45 counts of sexual assault against minors following allegations that ranged from rape to indecent touching, and covered a 15-year period involving 10 male victims.
Article continues below advertisement
It has been strongly speculated over recent months that Spanier would be the next person on the chopping block for his role in covering up a 2001 abuse allegation against Sandusky from assistant coach Mike McQueary; however in a news conference last summer, his attorneys insisted he was never told there was anything of a sexual nature involving Jerry and children.
After serving as Penn State president for 16 years, he was forced to step down following Sandusky's arrest in November, 2011. Curley and Schultz, who have also repeatedly asserted their innocence, are scheduled to stand trial in Harrisburg, Pennsylvania, in January.
A report released by FBI Director Louis Freeh concluded that Spanier, Curley, Schultz and then-coach Joe Paterno concealed Sandusky's activities from the university trustees and "empowered" the abuse by giving him access to school facilities and the prestige of his university affiliation.
Despite e-mail evidence that they knew about the dark goings on at the university, Spanier told the Freeh team that he believed in 2001 that the encounter amounted to "horseplay."
Article continues below advertisement
Sandusky has been sentenced to 30 to 60 years in prison, and on Wednesday he was transferred to a prison in southwestern Pennsylvania that includes most of the state's death row inmates, according to an Associated Press report.
Legendary Penn State head coach Joe Paterno died of lung cancer in January at age 85; he was diagnosed with the disease in November just days after he was ousted from his position.