Jerry Sandusky Victim #1 Breaks Silence: 'I Knew They Wouldn't Believe Me'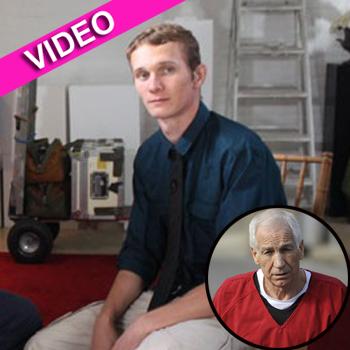 Aaron Fisher stepped out of the shadows Friday to reveal that he is the person simply known as Victim # 1 in one of the most notorious child sex abuse cases in U.S. history -- the Jerry Sandusky saga.
Fisher -- breaking his silence in an exclusive interview with ABC's Chris Cuomo -- says he turned to officials at his high school while he was being abused by Sandusky, but to no avail.
Article continues below advertisement
"Here I am, beside my mom, crying, telling them and they don't believe me," Fisher, 18, told Cuomo in the emotional interview scheduled to air on 20/20 Friday. "I knew they wouldn't."
Watch the video on RadarOnline.com
In addition to his first TV interview about the horrors he suffered at the hands of the former Penn State Assistant football coach, Fisher tells his story in the new book, Silent No More: Victim 1's Fight for Justice Against Jerry Sandusky, now available.
Fisher says he first met Sandusky in the summer of 2005. He was eleven-years-old at the time and was picked to attend a summer camp run by Sandusky's charity organization for disadvantaged children, The Second Mile, on Penn State's campus.
Fisher -- who grew up in a struggling family without a dad at home -- said Sandusky took a special interest in him and even took him to sporting events.
"We sat in box seats," said Fisher. "He was just kind of like a giant stuffed teddy bear. He seemed like the all-natural father figure -- something that most kids wished their dads did."
Article continues below advertisement
Aaron's mother, Dawn Daniels, said that Sandusky even took the boy away for the weekend to give her a break.
"Everybody knew who he was," said Daniels, "He's a great guy. Everybody, even my own father, said he does great things for kids."
Aaron told Cuomo that Sandusky slowly changed from a "father figure" into someone he was not comfortable with.
"He'd put his hand on my leg while we were driving," Aaron said, "My family never did that, so it was kind of weird."
Aaron says by the time he was 12, Sandusky was sexually assaulting him.
For years, shame kept Aaron from telling anyone. When he was 15, however, he told his mother and his school principal about the abuse.
"Aaron was melting down in the office," Daniels said. "I immediately told them we need to call the police."
However, the principal's response left them stunned.
"They said that Jerry has a heart of gold and that he wouldn't do those type of things," Daniels said "They tell me to go home and think about it."
Article continues below advertisement
Both Daniels and school officials did call Clinton County Children and Youth Services to alert them of Aaron's allegations. (School officials are required by law to report suspected abuse.)
Sandusky was interviewed by CYS, but he laughed off the allegations, making Fisher out to be a troubled kid, officials said.
Meanwhile, the police made Fisher retell his story four times over the course of three years. He was forced to go before two grand juries. However, the attorney general prosecuting the case said authorities needed more victims to charge Sandusky.
In 2011, there was a break in the case when Penn State coach, Mike McQueary, said he had witnessed Sandusky molesting a boy in a university locker room years earlier.
In June 2012, Sandusky was finally put on trial and convicted on 45 of 48 counts of child sexual abuse. He was sentenced to 30 to 60 years in prison, a virtual life sentence for the 68-year-old man; he's now appealing the conviction.
Chris Cuomo's entire interview with Aaron Fisher airs Friday on 20/20 at 10/9c on ABC.
Article continues below advertisement