First Photos Of Jerry Sandusky's Life In Prison: Take A Peek Inside!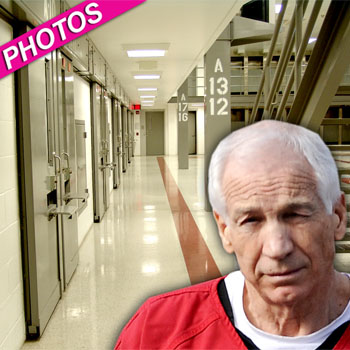 By Amber Goodhand - RadarOnline.com News Editor
Shamed Penn State defense coach Jerry Sandusky was sentenced to a minimum of 30 years in prison on Tuesday, and RadarOnline.com has the first photos of where he will spend his first few weeks behind bars.
Sandusky, 68, was sentenced on 45 counts of child sexual abuse and immediately sent to the State Correctional Institute – Camp Hill, where he will be subjected to mental and physical health testing and will be treated as needed. He will then be assigned a security risk level and be sent to his home prison accordingly.
Article continues below advertisement
SCI Camp Hill is located in Cumberland County, Pennsylvania and has approximately 3,400 inmates and a 2010 survey by the United States Department of Justice estimates that 1.2 percent of inmates reported being sexually victimized at the prison.
Originally opened in 1941 as the Industrial School at White Hill for young offenders, SCI Camp Hill is now the state's diagnostic and classification center for men.
As RadarOnline.com previously reported, once Sandusky is transferred to his "home prison" he will have luxuries like a personal TV in his cell with 15 channels, including sports channels allowing him to watch Penn State football games, two hot meals a day, a visitors list of up to 40 people, and the opportunity to work in the jail for 19 to 51 cents an hour.
"I speak today with hope in my heart for a brighter day, not knowing if that day will come," Sandusky said after his sentencing.
Article continues below advertisement
"Many moments have been spent looking for a purpose. Maybe it will help others, some vulnerable children who might have been abused, might not be, as a result of the publicity.
He continued, "I've forgiven, I've been forgiven. I've comforted others, I've been comforted. I've been kissed by dogs, I've been bit by dogs. I've conformed, I've also been different. I've been me. I've been loved, I've been hated."