Al Pacino To Play Penn State Coach Joe Paterno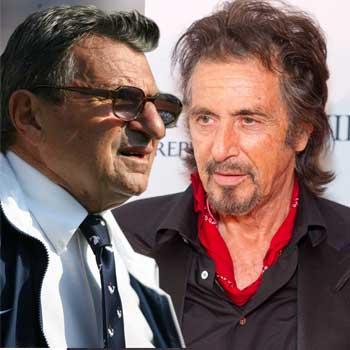 Disgraced Penn State football coach Joe Paterno is set to be immortalized in a new movie with Al Pacino starring as the controversial sports legend.
Pacino is linked to a project based on Joe Posnanski's biography, Paterno, reports Deadline.
Paterno died in January after being fired by the university following the child sex abuse scandal involving his former assistant coach, Jerry Sandusky.
Article continues below advertisement
JoePa - as Paterno was often called - was later accused of concealing facts relating to the abuse.
As RadarOnline.com previously reported, Paterno broke down and sobbed the day he was fired, but the tears were for his shattered image and not the children who'd been molested by his friend.
Pacino is no stranger to playing controversial real-life figures and won an Emmy in 2010 for his TV portrayal of euthanasia advocate, Jack Kevorkian.