Jerry & Dottie Sandusky: Accusers Are Liars; Scandal's A Big, Fat Conspiracy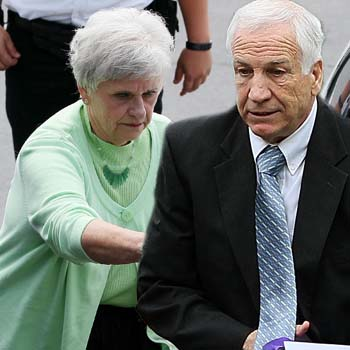 Article continues below advertisement
"In my heart I know I did not do these disgusting acts," he wrote in a letter sent to the judge. "However, I didn't tell the jury. Our son changed our plans when he switched sides."
The couple's letters were mentioned in court at Tuesday's sentencing, but they were not read aloud.
Once a vaunted figure in the world of college football, the convicted pedophile says in the letter that his accusers were essentially damaged goods, having come from broken homes where their values were skewed at a young age.
"Nobody mentioned the impact of abandonment, neglect, abuse, insecurity and conflicting messages that the biological parents might have had in this," Sandusky wrote in the letter.
He added his accusers were motivated to turn on him for reasons including "potential financial gain, free attorneys, accolades, psychologists, attention" and immunity from the lies they told to authorities.
The letters were released in the wake of Sandusky's Tuesday sentencing to 30 to 60 years in prison in connection with his conviction on 45 counts of child sexual abuse involving at least 10 boys from 1994 to 2009.
Article continues below advertisement
"There were so many people involved in the orchestration of this conviction… it was well done. They won!" Sandusky wrote. "When I thought about how it had transpired, I wondered what they had won. I thought of the methods, decisions and allegations. I relived the inconsistencies and dishonest testimonies."
The sex predator asked of the victims, "What would be the outcome if all the accusers and their families who were investigated? I knew the answer. All their issues would surface. They would no longer be these poor, innocent people as portrayed."
Sandusky continued with his parade of paranoia, writing that "the system protected the system, the media, the prosecution, the civil attorneys and the accusers.
"Everybody protected themselves. Penn State, with its own system, protected their public image. Media protected their jobs and ambitions. Prosecutors protected their jobs and egos."
In her own letter, Dottie wrote she, as well, is jaded after the unjust treatment levied against her husband.
Article continues below advertisement
"To think that they can lie and get by with the lies. The press has been unbelievable. People who have not met us are writing untruths."
She called adopted son Matt (who, during the trial, accused Sandusky of molesting him) a liar and thief who refused to take the medication prescribed for his Bipolar condition.
Ironically, many public and media felt Sandusky's biggest opponent as the scandal unfolded was himself, after his pair of bizarre interviews last year, in which he couldn't emphatically deny his attraction to children.
Last November, the ex-coach characterized his behavior with the children as "horseplay," in an interview with Bob Costas.
The following month, he explained to the New York Times that while he's attracted to children, it's not in a sexual way.
"If I say, 'No, I'm not attracted to young boys,' that's not the truth because I'm attracted to young people -- boys, girls," Sandusky said. "I enjoy spending time with young people. I enjoy spending time with people ... I mean, my two favorite groups are the elderly and the young."