Woman High On Bath Salts Strips Naked In A Park For The Second Time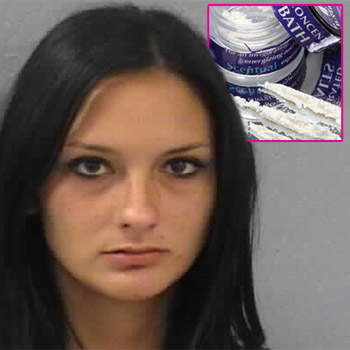 By Debbie Emery - RadarOnline.com Reporter
A woman clearly didn't learn from her mistakes even when it involved a deadly drug, and was arrested for galavanting nude in public while high on bath salts for a second time.
Samantha J. Edwards of Springfield, Missouri, stripped naked on top of a maintenance building at the Jordan Valley Ice Park, where surveillance footage shows her flashing her private parts to several passersby, flinging her bra on the trail and leaning over the balcony of the building with everything on display to those below.
Article continues below advertisement
The 30 minutes of outrageous footage was used in evidence against the 26-year-old when she was charged last month in Greene County Circuit Court with second-degree sexual misconduct and second-degree property damage, which are misdemeanor charges.
"Defendant was likely high on bath salts at the time and also ripped the covers off of two electrical boxes and removed two fire extinguishers from the building," stated a bond recommendation document filed by the Greene County Prosecuting Attorney's Office, reported the Springfield News Leader.
Police were called to the scene by two cyclists who spotted Edwards nude in the park, a bizarre act that the arrest notes reveal she had done before!
As of Wednesday, Edwards was still in custody at the Greene County Jail. She also faces a felony charge of fraudulent use of a credit or debit device.
A $2,500 bond has been set in that case and authorities recommended a $1,500 bond in the latest charges, for which she pleaded not guilty.
Article continues below advertisement
Bath salts has become notorious in recent months following the high profile case of Rudy Eugene, who stripped naked and ripped the face off a homeless man on a Miami underpass and then ate his flesh over Memorial Day weekend, reportedly while high on the drug, although later tests showed he only had marijuana in his system.
The grisly attack has been followed by numerous disturbing cases, including a new mom who allegedly got high on the drug in the maternity ward just days after giving birth, a man who went ballistic on a driving range and told police he was going to "eat them," and a couple who terrorized their neighbors while running away from imaginary gangsters.