Exclusive
What Could Turn YOU Into A Drug Crazed Flesh Eater? Seven Things You Didn't Know About Bath Salts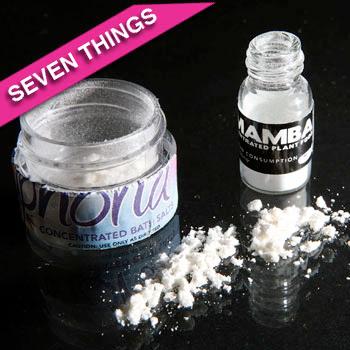 Article continues below advertisement
7. Don't let the name deceive you, these "salts" have nothing to do with bathing, sweet-smelling bubbles or pampering. Bath salts is a term made up by drug dealers as a cover to make their deadly cocktail sound safe and innocent, other similar products are dubbed with a wide variety of pseudonyms including Plant Food, Ivory Wave, Purple Wave, Red Dove, Scarface and Hurricane Charlie.
6. Known as synthetic cathinones, the drugs are made up of three main chemicals - methylenedioxypyrovalerone (MPDV), mephedrone and pyrovalerone - which were all temporarily banned by the Drug Enforcement Agency last October due to the alarming number of ER visits and criminal acts related to the narcotics. But while the chemicals are banned, the actual drugs they are made into aren't because the formulas are changed so quickly, and many of the little white packages are stamped with the warning, "not for human consumption," as a way to side–step legal regulations.
5. While you won't find this kind of bath salts at Bed, Bath & Beyond or CVS, they are readily and alarmingly available at liquor stores, gas stations, head shops and even mini-marts like 7-11, and can be purchased as easily as beer, cigarettes or energy drinks.
4. Rudy Eugene's startling transformation from a loving Bible-reading boyfriend to a crazed cannibal is the most extreme example of the drug, but the most common side effects are equally as disturbing and include agitation, paranoia, hallucinations, chest pain, suicidal thoughts, and psychosis. It is common for users – like Eugene who was found naked - to strip off because the chemical cocktail increases their body temperature and makes them feel like their internal organs are literally boiling.
Article continues below advertisement
3. Along with the gruesome attack on Ronald Poppo, bath salts have been connected to a number of violent acts, including a murder-suicide in Blue Springs, Missouri last month that left two adults and two children dead. Described by some victims as like "sniffing demons up your nose," the drug causes increased super human strength and the urge to take the lives of others and often your own, and there has been incidences of suicide even days after their use.
2. Unlike meth or cocaine, which they are often compared to, it is not yet known if bath salts are chemically addictive long-term, but they do cause cravings and acute toxicity when snorted, injected, or mixed with food and drink.
1. Google it! The Internet age has made the job of drug dealers and traffickers much easier, DEA spokesperson Barbara Carreno told RadarOnline.com, and that of narcotics enforcers much harder. "Many of these new designer drugs are made here in the U.S. in towns and cities across the country as all the formulas and ingredients are readily available online," she revealed.