Defense Allege Jennifer Hudson's Slain Brother Was A Drug Dealer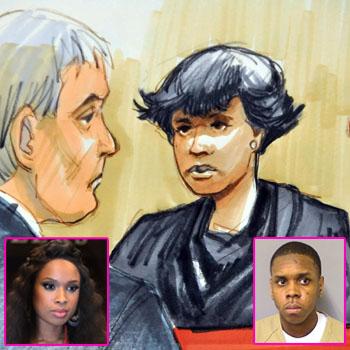 Article continues below advertisement
"He was involved in a dangerous business and it brought danger to him and he lived in Englewood, probably the most dangerous neighborhood in the city of Chicago," Thompson told the jurors.
"(Police) did nothing to determine if it might have been Jason Hudson's violent business that led to him getting shot twice before, that led to these murders. … They did nothing to follow the trail other than the weak trail that leads to William Balfour."
Balfour faces three counts of first-degree murder, aggravated kidnapping and home invasion in the 2008 deaths of Jennifer and Julia Hudson's mother Darnell Hudson Donerson, 57; brother Jason, 29; and Julia's son Julian King, 7.
As RadarOnline.com previously reported, Jennifer broke down in tears on Monday when she told the Chicago courtroom how she had begged Julia not to marry Balfour, and did not find out that her sister had gone through with it until months later.
Article continues below advertisement
"I tried to keep my distance with William any chance I got. Where he was, I tried not to be. So if I saw him, I separated myself," she explained.
Afterward, Julia took the stand and revealed the depth of the alleged abuse that she received at the hands of her now ex-husband, whom she claims was so jealous of anyone else's attention to her that he got angry when the former American Idol contestant sent her sister gifts, and when her Julian kissed her, reported Chicago.cbslocal.com.
Julia testified that he repeatedly threatened her, saying: "If you leave me, you will be the last to die. I'm going to kill your family first," but Julia said she never reported the threats to the police because, "I didn't believe him."
Balfour has pleaded not guilty to the triple murder. If convicted of at least two of the murder counts, the 30-year-old, on parole at the time of the killings after serving a previous seven years for attempted murder and vehicular hijacking, would face a mandatory life sentence.