Exclusive
Former Robyn Gardner Aruba Suspect Gary Giordano Wore Bizarre 'Jackalope' Mask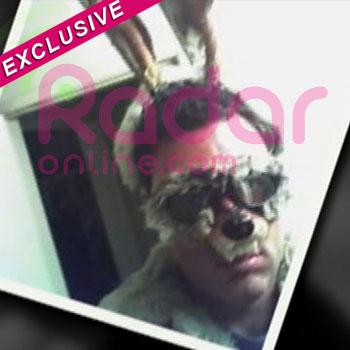 Despite being held in an Aruban prison on suspicion for murder for almost four months, Gary Giordano was never charged in the disappearance of Robyn Gardner and is now a free man, but a photo obtained exclusively by RadarOnline.com gives insight into his bizarre past behavior.
The close-up shot shows the 50-year-old from Maryland wearing long furry ears with a fake nose and heavy framed glasses, like a warped jackalope, a folklore animal that is a jackrabbit with antelope horns.
Article continues below advertisement
"The photo originally came from one of his ex-girlfriends," Gardner's boyfriend Richard Forester exclusively told RadarOnline.com.
"Several women who dated Gary in the past, who reached out to me following Robyn's disappearance, have told me the same story, that he would dress up in the jackalope mask and hide in the woods," Forester claimed.
"They also said he would sometimes wear a deer costume too."
"They also claimed that they needed to constantly inform him where they were at any given point. If she was at the grocery store, the girl would take a photo to send to him and prove she was actually there.
"The women all told pretty much identical stories." Forester said.
As RadarOnline.com previously reported, Giordano was released from an Aruban prison in November. Authorities considered him to be the prime suspect in 35-year-old Gardner's murder, but failed to find enough evidence to charge him.
The couple, who met on an adult dating site, went on a last minute vacation to the Caribbean island which ended in tragedy when Robyn vanished, allegedly while snorkeling, on August 2, 2011.
Article continues below advertisement
Monday marked Robyn's 36th birthday, and the important day just brought it home to Richard that the mystery surrounding her disappearance is no closer to being solved. He fears that the authorities in Aruba have given up searching for her, RadarOnline.com reported especially now that Attorney General Taco Stein has left his post there and been appointed Solicitor-General for the Windward Islands based on St Maarten.