Exclusive
Gary Giordano Is Free: Missing Woman Robyn Gardner's Boyfriend 'Isn't Happy'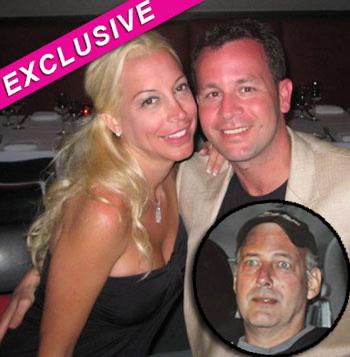 By Debbie Emery - RadarOnline.com Reporter
Gary Giordano, the prime suspect in Robyn Gardner's disappearance is currently flying back from Aruba to Maryland, and her boyfriend is not pleased that he will soon be arriving back in his home state a free man.
"I'm not surprised at all. Am I happy? No, but I'm not surprised," Richard Forester told RadarOnline.com in an exclusive interview.
"What I am really not happy about is we still don't know where Robyn is. I don't care about Gary Giordano at this point."
Article continues below advertisement
As RadarOnline.com previously reported, Giordano is expected to return to the United States Wednesday following his late-night release from an Aruba jail after 116 days in custody, though authorities are still seeking to link him to the disappearance of Gardner, the traveling companion who was last seen with the businessman back in August.
What makes Giordano's release even more painful for Forester is that the murder suspect lives just 10 minutes away from his Bethseda, Maryland home, where Robyn spent most nights and even kept her cats.
It is highly likely that as Gary tries to rebuild his life in his old neighborhood that the pair embroiled in this bizarre triangle could bump into each other at a local coffee shop or grocery store.
"I don't know what I would do if I saw him, I've thought about it a lot," revealed Forester.
"The smartest thing would be to turn around and walk away, but I don't think I could do that....I'd have to stop and ask him where is she is, what he did with her and why would he lie about snorkeling," he said, adding that he would never lose his temper and hit his nemesis.
Article continues below advertisement
"I would be angry but I am very composed."
Richard went on to say that while he'd never hurt Giordano, other people in the area may not feel the same way.
"He's coming back to America but if I was him I would not be going anywhere around here. I don't know if anything will happen to him, he's not a very well liked man and there's a lot of people out there."
But as Forester pointed out, if Gary was to meet an unexpected demise, then his secrets would vanish with him. "He's the only one that knows what happened to Robyn so I'd be heartbroken if something bad did happen to him.
"I think Gary did something, I don't know what, and until someone proves Robyn is dead then I think she is alive."
While Giordano will soon experience his first taste of freedom since he was arrested on August 5, Forester is now asking why the Aruban authorities haven't done more to solve the mystery surrounding Robyn's disappearance.
"I think they've dropped the ball on developing a case against him, why do you keep him for four months and then just let him go?" he asked.
Article continues below advertisement
"I feel they put so much emphasis on building a case against him and for what? We still don't know where she is. It sounds to me that he is still the primary suspect and they are building the case against him, but what happened to trying to find her?
"What happened to the witness, what happened to the blood that was on the towel, what happened to the rental car that was seen in the video?"
With so many unanswered questions running through his mind, Richard said he remains close to Robyn's family, who have largely remained quiet and private despite their pain.
"Everyone is pretty devastated over it, the longer this goes on the harder it is. We just want answers and there are none - it's four months now and this is ridiculous," he said vehemently.
As time ticks by and another holiday approaches without a single trace of Robyn emerging, her loved ones just hope and pray that she will be home for Christmas.
RELATED STORIES:
Gary Giordano Headed To U.S. After Release From Jail In Aruba