Robyn Gardner Fundraising Page Sparks 'Scrutiny From Ignorant People,' Says Her Boyfriend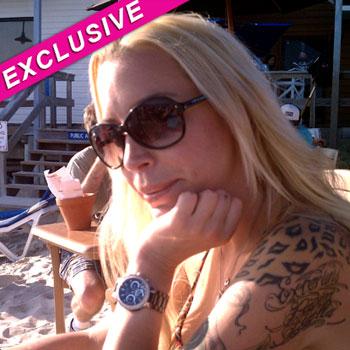 It has been three months since Maryland woman Robyn Gardner went missing in Aruba and as her suspected murderer remains in jail, her boyfriend has launched a fundraising site to make sure she doesn't turn into a cold case, RadarOnline.com has exclusively learned.
"I'm trying to raise money for searches, reward money, private investigators, and whatever resources we need to expand the search," Richard Forester tells RadarOnline.com in an exclusive interview.
Article continues below advertisement
As RadarOnline.com has previously reported, Gary Giordano has been held in an Aruban jail since August 5, three days after 35-year-old Robyn Gardner went missing. He stands by his story that she was swept away while the couple was snorkeling.
The Robyn Gardner Foundation page raised $1236 in its first few days but has garnered as much criticism as it has donations so far.
"I would certainly like to see more donations," said Forester, who admitted that he thinks some people aren't giving money as they agree with the Aruban authorities that Robyn is most likely dead.
"I believe she is alive and it is a shame that some of her friends may not think that," he explained.
Others have accused the boyfriend she left behind of simply trying to boost his own bank account.
"I'm getting a lot of scrutiny from ignorant people who are saying I'm using it for myself. It is illegal to use funds for my own gain, it would land me in prison!
"I am so shocked by the negativity, it hurts that I'm under such suspicion," Forester adamantly told RadarOnline.com."I'm not making a salary and it's not for me to have a slush fund."
Article continues below advertisement
One critic who has been personally attacking Richard online is a psychic who approached him soon after Robyn went missing on August 2.
" I wouldn't let her be attached to the case. She calls herself a world renowned psychic detective, she's just posting toxic information," he explained.
Forester is more concerned about getting positive feedback from Robyn's family, who have been very supportive of his efforts.
"Robyn's 21-year-old brother, Andrew, has taken all this hard, he's sad and scared as he was very close to her. He has just graduated from college and wants his big sister back," he explained.
On October 28, a judge ruled that Giordano will remain in custody for a further 30 days while the prosecution gathers more evidence in the case.
RELATED STORIES:
The Prosecution 'Won't Have A Slam Dunk,' Claims Gary Giordano's Aruban Lawyer