Robyn Gardner's Friend Claims Her Missing Pal: 'Would Not Have Accepted Money To Go To Aruba'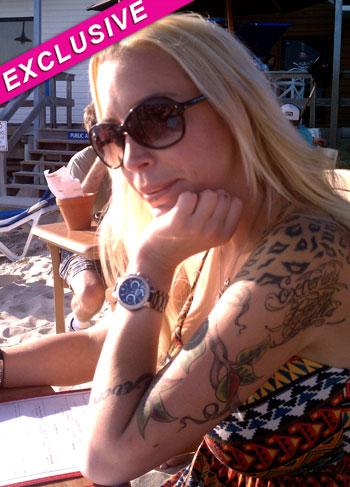 With wild rumors flying that missing Aruban woman Robyn Gardner was working as a paid escort at the time of her disappearance, her close friend is speaking out, telling RadarOnline.com exclusively: "I don't think she would have accepted money to go to Aruba."
With the search for the missing Maryland woman no closer to a resolution, the question as to why she would go on vacation with a man, whom she hardly knew, and with such a violent past remains unanswered.
Article continues below advertisement
"I don't think she would have accepted money to go, or had done anything like that before," Robyn's close friend Reece Armstrong revealed to RadarOnline.com.
Gardner, 35, was an aspiring model and there has been speculation that she was lured down to the Caribbean resort by Gary Giordano, who is the main suspect in her disappearance, to be paid to pose after recently losing her job as a dental assistant.
"I don't think she would go down to get paid for him to model, I think she just thought of it as a vacation," explains Armstrong. "She's done modeling here and there, but I don't know of her doing anything recently."
RadarOnline.com previously reported Giordino had previously offered 18-year-old Tyler Taylor money to go away with him to Aruba in July for a photo shoot after seeing pictures of her in a bikini on the Internet.
Article continues below advertisement
"He made the offer sound so wonderful that anyone needing the money or the modeling job would have gone," said Taylor's mom, Carrie Emerson, in an interview with Judge Jeanine Pirro on Fox News' Justice with Judge Jeanine Saturday night.
Suspicious about the offer though, Emerson, who fielded the call, turned Giordano down at which point "he got very irate" she said. "During the conversation, he told me that he could make me disappear and no one would ever look for me."
While it appears that an exotic vacation to Aruba is an expensive present to give someone if you're just friends, Armstrong said that she heard the trip to the Renaissance Aruba Resort & Casino in Oranjestad didn't cost Giordino as much as it seems.
"He said that he had travel points with Marriott, so it wasn't as out of pocket as a lot of people think," she explained.
Instead of being lured by money, Armstrong said Robyn just wanted to get away for a few days and saw it as an escape from the depression she'd been feeling since she lost her job.
Article continues below advertisement
"She was going through a rough time and when you are in that state you do things in the spur of the moment, and a trip away to clear her head sounded good to her," Reece told RadarOnline.com.
Those closest to Robyn say that her and Gary, who she'd met on Match.com a year earlier despite being in a serious relationship with boyfriend Richard Forester, were just friends but they still weren't happy about the getaway.
"Her roommate Christina (Jones) wasn't excited about her going away, she didn't like Gary," reveals Reece. "Robyn had been planning on going on a cruise with him in June, and when she backed-out at the last minute, Gary wasn't nice about it."
Giordino, a 50-year-old businessman, also from Maryland, is currently being detained in connection with the disappearance of Gardner, and Reece says there's no doubt in her mind that he is responsible.
Article continues below advertisement
"I think he 100 percent has to do with why my friend isn't home right now," said Armstrong, who is even more disturbed by the recent news that Giordino allegedly took an insurance policy out in Robyn's name. "I don't believe a thing he has said about it.
"It leaves a bad taste in my mouth, I don't think Robyn would sign anything like that, but I would imagine if she were to sign something she would leave it to her family."
In the latest development in the case, a local fisherman told police that he saw Gardner and Giordino walking along the reef at around 4 p.m. on the day that she disappeared but never saw them enter the water.
The witness saw them drive away together shortly afterwards and never saw them again.
"If this witness ends up being accurate and correct as to locations of both Mr. Giordano and Ms. Gardner, it's yet another piece of evidence that's inconsistent with his story," said Brad Garrett, a former FBI agent, reports Fox News.