Exclusive
Robyn Gardner's Boyfriend Reveals: 'We'd Talked About Marriage And About The Future'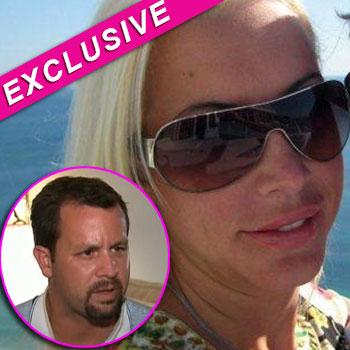 As concern for missing Maryland woman Robyn Gardner escalates, her longtime boyfriend talked exclusively to RadarOnline.com about how they were ready to take their relationship to the next level.
"We'd talked about marriage and about the future," Richard Forester, who had been dating 35-year-old Gardner for 2 1/2 years told RadarOnline.com on Thursday in an exclusive interview.
"We were looking for a place together," explained Forester, adding that they already spent nearly every night side by side. "She had her own apartment in Frederick but she lived with me six days a week, and she had her cats here."
Article continues below advertisement
Robyn, who's maiden name is Colson, was previously married to Kenneth Gardner in 1998, but the couple were divorced in 2009, according to Forester.
The couple's dreams of carving a future life together make circumstances behind her disappearance even harder for him to handle.
EXCLUSIVE PHOTOS: Joran Van Der Sloot's Bloody Clothing
As RadarOnline.com previously reported, authorities arrested Gary Giordano, 50, as he tried to leave Aruba last Friday after he reported that Gardner disappeared while snorkeling during the evening hours of August 2.
Gardner had traveled to the Caribbean island with Giordano after the pair reportedly met on Match.com a year ago, unbeknown to the man who hoped to one day become her husband.
"She said she was going away on a family vacation, she was she was going to Orlando and then they surprised her and took her to Aruba," Forester told RadarOnline.com. "I didn't know she was going with Giordano. I don't know if it was romantic, I pray that they were just friends."
Article continues below advertisement
Ironically, Forester and Gardner first met on same dating site that she became acquainted with Giordano on.
"I didn't know she was still going on there, that upsets me but it's not important to me right now."
While most men would be torn apart with jealously at the idea of their girlfriend on vacation with another man, Forester simply wants the pretty blonde to be returned home safely to him.
"The circumstances (of the trip) are not important to me, all I want is for her to come home safely. That's for her and I to discuss when she comes back," he said emphatically.
As the police call off the search for the 5'5" former model, Forester remains hopeful that she will be found alive.
"I am being optimistic that she is hiding somewhere and will be brought home safely," he said cautiously. "I am trying not to think of the worst and believe she will come back."
Despite the strange circumstances surrounding her disappearance, financial recruiter Forester said that they weren't having trouble in the relationship.
Article continues below advertisement
The dental office worker had been down recently after being laid off from her job, he explains, which: "Put a strain on me because I wanted to help her and I wanted to find her a job, but it wasn't a strain on the relationship, it was strain on her."
The last time the couple spoke was on July 31 and the final communication was a Facebook message was around 3 p.m. on Aug. 2 (three hours before her disappearance).
"She wrote, 'I love you, I care about you and we'll talk about this and sort it out when we get back.'
Messages like that always pulled at Forester's heartstrings, he revealed. "I am in love with her more than anything in the world. I loved any contact with her. She could send me a text in the middle of the day and make me smile."
Much has been made of Gardner's heavily tattooed body, but Forester thinks she had beautiful artwork and she was a very delicate at heart.
Article continues below advertisement
"She was out going and very friendly, she got along with everybody," he explained. "She loved to play tennis, run, or stay active. We would sit around watch TV, or go for dinner and parties in Washington D.C. or go to art museums.
"We spent so much time together, I don't know when she would have time to see anyone else. We trusted each other and loved each other," he concluded.
Gardner disappeared from the same town in Aruba where Natalee Holloway went missing from in 2005. Her body has never been found and the main suspect in her disappearance, Joran van der Sloot, is currently in prison in Peru on murder charges of another woman.