Exclusive
Joran Van Der Sloot: 21 Reasons He's Guilty, From Peruvian Detective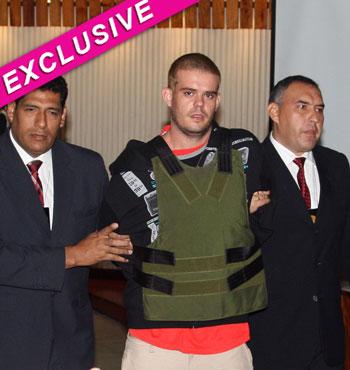 By Amber Goodhand - RadarOnline.com Reporter
While Joran Van der Sloot awaits his fate in Lima's run-down Castro Castro prison, Peruvian homicide detective Captain Juan Callan has 21 reasons he believes the Dutchman killed and robbed Stephany Flores.
In the new investigative book, Portrait of a Monster: Joran Van der Sloot, a Murder in Peru, and the Natalee Holloway Mystery, obtained by RadarOnline.com, authors Lisa Pulitzer and Cole Thompson collected nearly 400 pages of Callan's master file on Joran.
Article continues below advertisement
Callan has been a member of the Peruvian National Police Force for two decades, worked the Flores crime scene and interrogated Joran.
According to Callan's file, the following are the top five reasons that he says Joran murdered Flores "committed with premeditation, violence, ferocity and cruelty, using physical force to cause her death."
1. Van der Sloot admitted in the presence of a public ministry representative, his defense lawyer, and translator of having robbed Flores of 850 soles, her national ID, credit cards, bank card, as well as her Jeep on May 30. When Flores resisted the attack, Van der Sloot physically assaulted her, before he asphyxiated her, thus causing her death.
EXCLUSIVE PHOTOS: Joran Van Der Sloot's Bloody Clothing
2. The cruelty exhibited by Van der Sloot as evidenced by the lesions on the different parts of her body, leaving open the possibility that inside Room 309 Van der Sloot may have tortured Stephany in an attempt to obtain the passwords to the victim's credit and bank cards in order to access the money in her accounts, showing no appreciation for human life.
MORE ON:
Joran Van der Sloot
Article continues below advertisement
3. The way in which Van der Sloot attempted to lighten his penal responsibility in this crime by saying that he committed the murder in self-defense, claiming Stephany initially struck him on the head. This is hardly credible given that Stephany sustained severe injuries to the head, face, and neck.
4. Footage from the security cameras of the Atlantic City Casino show that Stephany Flores arrived at the casino on May 30 at 2:54 A.M. driving her black Jeep and was captured again on on video at 5:15 A.M. leaving the casino in the company of Joran.
5. The attitude and criminal conduct exhibited by the Dutch citizen in having abandoned the body of Stephany Flores after perpetrating the crime, demonstrating coldness in his acts, and then fleeing for the Chilean border with the only purpose of evading justice.
Click here to see all 21 reasons listed in Callan's file.
Not only is Joran being held for the murder of Flores, but he also remains the prime suspect in the disappearance of American teenager Natalee Holloway, who vanished at age 18 while on a graduation trip to the Caribbean island of Aruba.