Exclusive
Joran Van Der Sloot DID Have Sex In Jail But Did NOT Get Girlfriend Pregnant - Says Source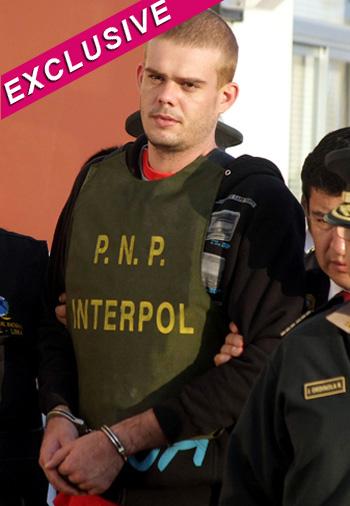 RadarOnline.com Staff Reporter
Joran van der Sloot's former lawyer Maximo Altez Navarro has told RadarOnline.com: "Joran did not get any girlfriend pregnant while he's been in jail."
Reports surfaced Thursday that the 23-year-old Dutchman had got an un-named woman pregnant while he's being detained inside Peru's notorious Castro Castro prison.
Van der Sloot is waiting to be tried for the death and robbery of 21-year-old Peruvian student Stephany Flores.
Article continues below advertisement
According to reports his girlfriend worked at the same casino that Flores was in the night Van der Sloot allegedly murdered her by strangling and then suffocating her.
However, although Navarro shot down the pregnancy rumors he did admit that his former client did take advantage of conjugal visits inside the Lima prison.
EXCLUSIVE PHOTOS: Joran Van Der Sloot's Bloody Clothing
He said: "These stories are total bull**** Joran has not got any girlfriend pregnant while he was in jail.
"Conjugal visits are allowed at the prison and women regularly visit to see inmates – Joran had girlfriends come and see him and he did have sex but he did not get any of them pregnant.
"These stories are coming-out to make him look bad before his trial."
Flores was found dead in a Lima hotel room registered to Van der Sloot in May 2010 – police believe that he took money and bank cards from the wallet and then fled to Chile.
Article continues below advertisement
Van der Sloot previously admitted to the murder but has pled 'violent emotion' which is commonly used in Peru for crimes of passion because Flores attacked him first before he retaliated.
If a judge accepts this plea – which he entered in March – he could only spend 20 months in jail.
He is currently accused of first degree murder and faces 15 to 35 years in jail if his plea is not accepted.
Van der Sloot also remains the prime suspect in the disappearance of American teenager Natalee Holloway, 18, who vanished in 2005 while on a graduation trip to the Caribbean island of Aruba.