Exclusive
Robyn Gardner's Boyfriend Refuses to Give Up Hope That She'll Be Found Alive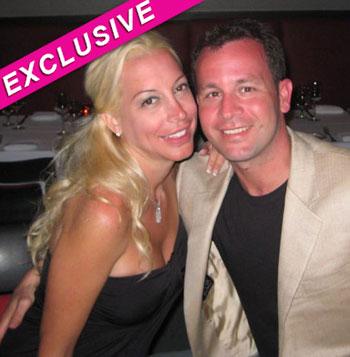 It has been almost two months since Robyn Gardner was last seen in Aruba and despite authorities believing that she is dead, her boyfriend is still hopeful that she will be found alive and well, RadarOnline.com can exclusively report.
"I am still hoping that she is alive, I will always feel like that unless someone proves it to me differently," Richard Forester told RadarOnline.com in an exclusive interview.
Article continues below advertisement
"I will never give up on her, unless someone tells me that they have found her body then I will believe she is alive," said Garner's boyfriend of two years.
"She would never give up on me so I will do the same for her. I feel like I would know deep down if she was dead.That might be hope and denial but it keeps me fighting."
As RadarOnline.com previously reported, the 35-year-old woman has been missing since August 2 when she disappeared during a vacation to Aruba with prime suspect Gary Giordano, who claims that Gardner was swept away while they were out snorkeling.
Earlier this month, a three-judge panel in Aruba rejected Giordano's appeal to have his 60 day detention repealed so he will remain in jail until the end of October while the police build their case against him.
While no body has yet been found, authorities say Robyn Gardner is presumed dead.
However, Forester, who thought that Robyn was on a family vacation during the time of her disappearance, is so convinced that his girlfriend is still alive that he has been painstakingly contacting locals in Aruba and the surrounding Caribbean islands in a desperate personal search.
Article continues below advertisement
"I've made a lot of contacts through social media on Facebook and Twitter, and have made 'Missing Person' posters and sent them to thousands of people," Richard told RadarOnline.com.
"A lot of people down there haven't even heard of the case - even in Aruba!" the shocked Maryland resident revealed. "I've spoken to many local reporters who have interviewed people but a lot of them don't even follow the news.
"All the locals are very friendly and very welcoming - I don't blame Aruba," he explained, adding, "I just hope the authorities are doing everything they can."
As for Giordano, Forester's opinion is that the 50-year-old businessman didn't act alone.
"I think there is someone else involved, I don't think Gary is smart enough to do it by himself or had enough time," he told RadarOnline.com. "I think there is a strong possibility that he was working with an accomplice.
Article continues below advertisement
"Maybe she was removed from the island. Anything could have happened...there has been NO trace of her found," he said hopefully.
He went on to emphasize that his gut instinct is not based on fact or evidence from the police, but is his personal suspicion after it was suggested in the media that there was someone at the restaurant with Robyn and Gary on the day she vanished.
"This has never been confirmed with the authorities. I am not a private investigator – I am a boyfriend with a broken heart who is trying to find her," he added.
"I don't know what happened, I don't know if Gary killed her – I don't want an innocent man prosecuted if he didn't do it but I think he's involved somehow.
"He's got until the end of the month, if he gets out of there (Aruba), I am hoping the FBI here has something on him...if he comes back I hope there are federal agents there to meet him at the airport."
RELATED STORIES: