New Video Surfaces Of Robyn Gardner & Gary Giordano The Day Before She Vanished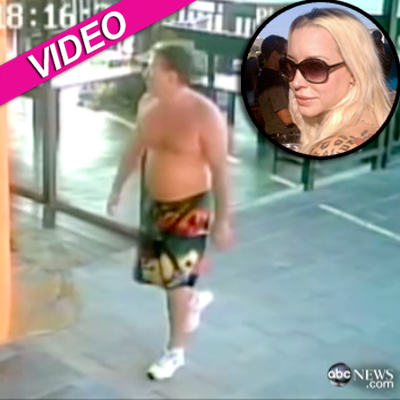 A surveillance video was released on Monday showing missing Maryland woman Robyn Gardner on the beach in Aruba with prime suspect Gary Giordano the day before she disappeared, RadarOnline.com has learned.
The grainy footage was shot on August 1 and shows Gardner, 35, and Giordano,50, leaving the restaurant where they would have their final meal together the next day, reported ABCNews.com.
Article continues below advertisement
There are many chilling similarities between the two days, causing speculation that Giordano was doing a rehearsal of the murder and casing out the crime scene.
After they left the Rum Reef Bar & Grill in the Baby Beach area, the pair walked on the beach at 3.41 p.m. and Gardner was wearing the same sundress that she wore on the day she vanished.
ABC News legal analyst Dan Abrams told Good Morning America that the video could show that the suspect was preparing to carry out a crime in Gardner's disappearance.
"You've also got the possibility now that he may have been casing it the day before so all of these pieces together are going to lead investigators in their minds to believe they have a right guy," Abrams said.
As RadarOnline.com previously reported, last week, a three-judge panel in Aruba rejected Giordano's appeal to have his 60 day detention repealed so he will remain in jail until the end of October while the police build their case against him.
Article continues below advertisement
Giordano has been in police custody on the Caribbean island since August 5, three days after he reported Gardner, 35, missing.
He told investigators that the Maryland woman vanished while the two were snorkeling during their stay at the Renaissance Aruba Resort & Casino in Oranjestad.
In August, it emerged that shortly before their trip to Aruba, Giordano took out a $1.5 million insurance policy against Gardner's accidental death, naming himself as the beneficiary.
Aruban authorities presume Gardner is dead, although her body has yet to be found.