New Party Picture Emerges of Robyn Gardner and Her Suspected Murderer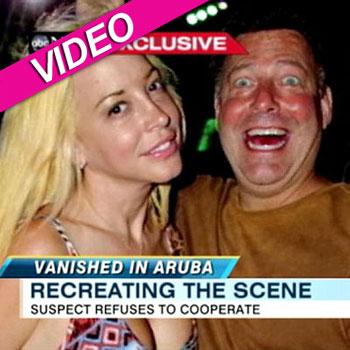 The drunken grins and goofy expressions are typical of any fun-loving couple enjoying a night of cocktails on vacation, but sadly this holiday snap was taken just two days before Robyn Gardner went missing in Aruba - and the man pulling silly faces in the background is the prime suspect in her murder, Gary Giordano.
The photo is part of the evidence that Aruban authorities are using in a reenactment of the hours after the Maryland woman went missing on August 2, reported ABCNews.com.
Article continues below advertisement
In one chilling image, which was taken on July 31, Robyn is smiling sweetly into the camera as Giordano waves and flashes a wide-grin behind her. In another shot, the 35-year-old aspiring model is reportedly alone and wearing the same dress she had on during the last day she was seen alive.
Surveillance videos and eye witness statements are also being included in the reenactment, which will take place between 4 and 6 p.m. on Monday local time to mimic the time that Robyn went missing from the Baby Beach area of the island.
As RadarOnline.com previously reported, Giordano was reportedly asked to cooperate in the reenactment but refused. He stands by his claim that Robyn was dragged out to sea by a strong current while the couple was snorkeling on August 2.
Upon hearing that the police were going to retrace the aspiring model's final moves, her friend Lianne Delawter opened up to RadarOnline.com in an exclusive interview.
Article continues below advertisement
"I've got to be hopeful about anything that goes on down there," Delawter told RadarOnline.com. "I just want justice to be served. That means finding her, even if she can't speak then she (her body) will be able to speak."
Despite still maintaining his innocence, the 50-year-old Maryland businessman has added legal muscle to his defense team by hiring the lead attorney in the Casey Anthony murder trial, Jose Baez.
Baez gained instant notoriety during the Anthony trial, which ended in July with a shocking not guilty verdict.
Baez had only been practicing for three years and had tried one death penalty case before he was hired by the notorious Tot Mom, although he has handled five murder cases.
He will not be able to argue the case in an Aruban court, but he will be able to serve as an adviser and assist the defense in other ways, said Giordano's Aruban lawyer, Michael Lopez.
Watch the ABC News video below: