Gary Giordano Headed To U.S. After Release From Jail In Aruba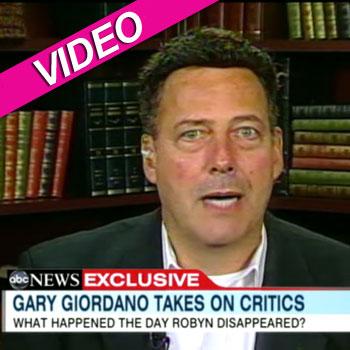 by RadarOnline.com Staff
Gary Giordano is expected to return to the United States Wednesday after his late-night release from an Aruba jail after 116 days in custody, though authorities are still seeking to link him to the disappearance of Robyn Gardner, the traveling companion who was last seen with the businessman back in August.
Aruba Solicitor General Taco Stein reiterated Tuesday that the 50-year-old Gaithersburg, Maryland resident "will remain our prime suspect" in the ongoing investigation.
Article continues below advertisement
As we previously reported, authorities arrested Giordano as he tried to leave Aruba in August, after he reported that Gardner, 35, had disappeared while snorkeling August 2. Though her body has never been found, authorities have said they presume she is dead. Giordano and Gardner had met on an online dating site.
After a series of searches, neither Gardner's body or physical evidence has been recovered, making it impossible to determine if a crime has been committed. A judge last week ordered officials to free Giordano, with an appeal scheduled for Wednesday.
Stein said, "We know he has been lying about what happened" and that Giordano's "story is not true," adding that he will lead the charge to extradite Giordano back to the island if his team can make strides in the case.
Watch the video on RadarOnline.com
Appearing on Nightline Tuesday, Giordano's attorney Jose Baez (of Casey Anthony fame) said he's relived for his client, and feels bad for him as his life, business and reputation have been destroyed in the wake of the high-profile affair.
"I don't think he'll ever put this behind him," Baez said. "It's been a fishing expedition, and it's time for them to cut bait."
Stay with RadarOnline.com for more details on this story as it breaks.