Who Wore It Best? 'Wigged Out' Gary Giordano Vs Jose Baez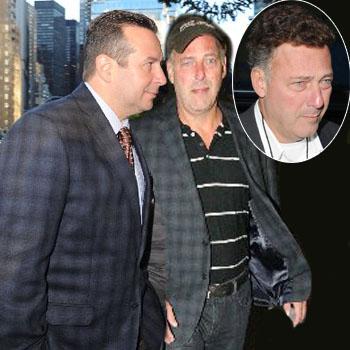 By Debbie Emery - Radar Reporter
After battling for his freedom, it seems that Gary Giordano is now battling for his wardrobe!
The prime suspect in the case of missing Maryland woman Robyn Gardner hit U.S. soil Wednesday after four months in an Aruban jail, wearing a natty, checked sports jacket.
Fast forward 12 hours and the next morning Giordano's high-powered attorney Jose Baez, had the same garish jacket on when they arrived at the GMA studios for their exclusive interview.
Article continues below advertisement
Luckily though, Casey Anthony's hot shot attorney has a full head of hair and didn't need to borrow what appeared to be an ill-fitting hairpiece from his client.
Giordano's behavior when he hit the TV circuit was confusing enough, and along with his bizarre appearance, many viewers were wondering what on earth happened to his hair.
The 50-year-old Maryland man appeared to be wearing a poorly fitting, jet black wig when he appeared on Good Morning America on Thursday, prompting speculation that he has more than the 35-year-old's disappearance to cover up.
As RadarOnline.com previously reported, authorities arrested the businessman as he tried to leave Aruba in August, after he reported Gardner had disappeared while snorkeling on August 2.
After a series of searches over four months, neither Gardner's body nor any related physical evidence was recovered, spurring a judge last week to order Giordano freed.
During the GMA interview, Gary talked erratically to host Robin Roberts, telling her: "I'll interview myself, if you don't mind," launching into a series of what he called misconceptions surrounding the case.
Article continues below advertisement
As he argued, the mysterious dark toupee perched precariously on his head, creating a very different look from the photos splashed around the world of him while vacationing with Gardner in Aruba, and later in police mugshots after his arrest.
In bare-headed photos of him leaving jail on Tuesday, Giordano displayed a perfectly-smooth bald dome as he hurried to freedom, which he quickly covered up with a baseball cap.
Meanwhile, Giordano's former lawyer has expressed his disdain for his client and his new attorney, Baez, not over their fashion faux pas, but over the disparaging way they have talked about him in the media.
"I have been informed this morning that during some U.S. television morning talk shows, CNN-ABC, that a certain Mr. Baez, allegedly the U.S. attorney for Mr. Gary Giordano, made some unfounded statements in my direction," Aruban lawyer Michael Lopez wrote in an e-mail statement to RadarOnline.com.
Article continues below advertisement
"These statements are not based on reality."
Lopez explained that confidentiality laws prevented him from revealing "the arrangement that may exist between said parties," but stressed that Mr. Giordano is "well aware of the arrangements between him and his lawyer, in this case, my person."
"Mr. Baez at some occasions, through my intervention, tried to get free access to my client, Mr. Giordano, and also wanted access to the entire case file. However, Mr. Baez was not competent to practice his profession as a lawyer in Aruba and therefore I did not deem it responsible to grant him free access."
The attorney went on to conclude: "Any statement given by Mr. Baez in the American media therefore remains his sole responsibility and under no circumstances will those statements force me to act against the rules of professional ethics that are universal for all attorneys and legal representatives."
Meanwhile, Robyn Gardner's boyfriend Richard Forester exclusively told RadarOnline.com that while he had no intention of harming Giordarno, he didn't think it was a good idea for him to return to Maryland.
Article continues below advertisement
"If I was him I would not be going anywhere around here. I don't know if anything will happen to him, he's not a very well liked man and there's a lot of people out there," Forester said.
But as Forester pointed out, if Gary was to meet an unexpected demise, then his secrets would vanish with him. "He's the only one that knows what happened to Robyn so I'd be heartbroken if something bad did happen to him."