Robyn Gardner's Boyfriend: Human Trafficking May Be Involved, But Gary Giordano Should Be Held Responsible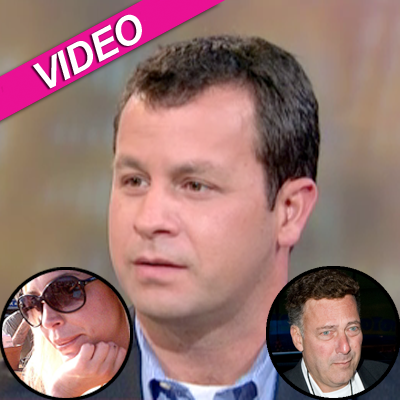 Richard Forester -- the boyfriend of missing woman Robyn Gardner -- told Good Morning America Friday he thinks human trafficking might explain the 35-year-old's vanishing, echoing the sentiments of her traveling partner Gary Giordano, the sole suspect in the woman's disappearance in Aruba last summer.
That said, Forester does feel Giordano should be held accountable for her disappearance.
Article continues below advertisement
Forester said that "the human trafficking is something I've been thinking about the entire time, since day one" after Gardner vanished this past summer while snorkeling on the island.
Forester spoke a day after Giordano told GMA that the woman disappeared in an area that is known for activity by traffickers.
"I think it's very possible and I wonder what Giordano's involvement was," Forester said. "There's a whole underworld down there. I don't know what he knows about Aruba."
Giordano was freed from custody earlier this week, just more than a day after his return to the United States following his release from an Aruba jail Tuesday after 116 days in custody.
As RadarOnline.com previously reported, authorities arrested the 50-year-old Gaithersburg, Maryland businessman as he tried to leave Aruba in August, after he reported Gardner, 35, had disappeared while snorkeling August 2. After a series of searches over four months, neither Gardner's body or any related physical evidence was recovered, spurring a judge last week to order Giordano freed.
Article continues below advertisement
"What you don't know about Aruba is Aruba has two main sources of income and it's not tourism. It's cocaine and human trafficking," Giordano said in his first media appearance on Good Morning America Thursday. "And where we were, it takes a half hour to drive a boat to Venezuela... and it turns out that where we were, the beach, that's where they drop off illegals to swim to shore."
While Forester agreed the concept of human trafficking could be involved in his girlfriend's disappearance, he didn't rule out Giordano as its possible perpetrator.
"There isn't any sign of her at all, no clue of her, no trace of her whatsoever that we know about. I can't imagine it would take more than a half hour to get to Venezuela. So from 4:15 in the afternoon until 6 in the evening, there's an hour and 45 minutes before he comes back and finally tells somebody that she's missing," Forester said. "I think it's an option that needs to be looked at -- I know that it happens in that part of the world.
Article continues below advertisement
"It happens all over the world, but it's pretty big in that world."
Forester added Giordano should be held legally liable for Gardner's disappearance.
"Where's Robyn? Where is she? You're the last one to see her," he said of Giordano. "Where'd she go?"
Watch the video on RadarOnline.com
Stay with RadarOnline.com for more details on this story as it breaks.