Jennifer Hudson Cries On The Stand In Family Murder Trial, Warned Sister 'Not To Marry William'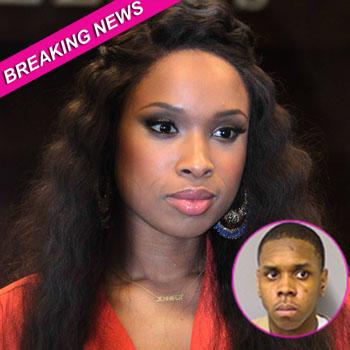 By Debbie Emery - RadarOnline.com Reporter
Jennifer Hudson bravely took the stand on Monday to testify in the murder trial of the man who is charged with killing her mother, brother and nephew.
Dressed all in black with her hair pulled back in a somber style, the Oscar winner revealed how she had warned her sister not to marry William Balfour.
"I would tell Julia over and over again not to marry William," Hudson, 30, told the Chicago courtroom on the first day of testimony in the trial, reported the Chicago Sun Times.
Article continues below advertisement
"None of us; myself, my mother, or my brother, we did not like how he treated her and I didn't like how he treated my nephew."
Jennifer's candid revelation was met with numerous objections from the defense, which Judge Charles Burns sustained.
RadarOnline.com was first to report that Jennifer would be called as a star key witness in the trial.
Balfour faces three counts of first-degree murder, aggravated kidnapping and home invasion in the deaths of Jennifer's and Julia's mother Darnell Hudson Donerson, 57; brother Jason Hudson, 29; and Julia's son Julian King, 7, on October 24, 2008.
The former American Idol star went on to reveal the depth of her relationship with her mother, telling the court they had slept in the same bed until she was 16 and continued to talk every day after that.
She realized something was terribly wrong the morning after the bodies were found when she woke up in Tampa, Florida and saw that her mother hadn't texted her yet.
"I noticed that — I'm looking to see the text from my mom and it wasn't any," she said. "I kept sitting there wondering, like that's strange. That was the first thing I said, 'My mom didn't text me.'"
Article continues below advertisement
She finally got the tragic news when her sister called her fiancé David Otunga's phone and told them what had happened.
"I remember it like yesterday, obviously," she said. "And he couldn't understand what she was saying because she was so hysterical and I grabbed the phone form him and that's when she told me."
Hudson also recalled the close relationship she had with her young nephew saying, "It was always me and my Tugga Bear. That's what I called him."
Earlier in the proceedings, prosecutor Veryl Gambino told the jury in his opening statements how Balfour had threatened the family shortly after he left the family home in 2008.
Jennifer Hudson's Chicago Dream Wedding
"Julia, if you leave me I'll kill you," Gambino said, quoting Balfour's alleged threat to Julia Hudson. "I'll kill your family first and then I'll kill you."
A high-school dropout and one-time Gangster Disciple known by the gang name "Flex," Balfour allegedly threatened to kill the Hudson family at least two dozen times, starting earlier in 2008 when he moved out of the house, lead prosecutor James McKay has said.
Article continues below advertisement