Handyman Embroiled In 'Milk Carton Missing Boy' Cold Case Claims He's Innocent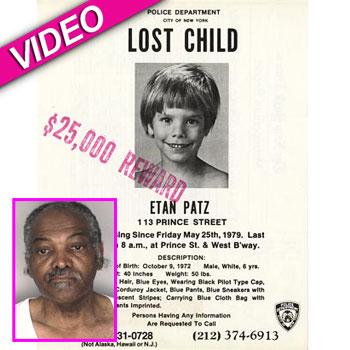 By Debbie Emery - Radar Reporter
The handyman embroiled in the case of a six-year-old who vanished 33 years ago has denied he had anything to do with the mystery that inspired the first missing child signs to be posted on the side of milk cartons.
Othniel Miller's attorney claimed on Friday that his client was not involved with the three decade old cold case. "Mr. Miller denies involvement with what happened to this beautiful young boy and he's going to remain cooperative to the extent that's reasonably possible given this investigation," said Michael Farkas, reported ABCNews.com.
Article continues below advertisement
As RadarOnline.com previously reported, the investigation into the disappearance of Etan Patz has been reopened and on Thursday federal investigators and the NYPD began tearing up a Manhattan apartment building in the hope of finally revealing what happened to the adorable little boy after he vanished on his way to a bus stop on May 25, 1979.
The new search was sparked by a cadaver dog who recorded a "hit" in the basement of the building on 127 Prince Street in the Soho neighborhood of the city, where handyman Miller had lived in apartment B.
The now 75-year-old had his workshop there and had given Etan a dollar for helping out the night before the youngster vanished, a source told the New York Post.
Etan was last seen making his first solo walk to a bus stop at Prince and West Broadway for the ride to school, a route that would have taken him directly past Miller's workshop site. He was initially questioned but not until this week did police dig up the then-freshly poured concrete floor because they were told they would have to pay to replace it.
Article continues below advertisement
The elderly man has spent the past few days holed up in his apartment, but his grandson Tony Miller, 33, told the Post that he had never spoken about the case. "He's just a hard-working man," he said. "He helped me a lot — set me straight. I don't think he could have done anything like this."
It was Etan's mother, Julie, who suggested to the police that they talk to him again. Her son's disappearance became known as the largest, longest lasting and most heart-wrenching hunt for a missing boy in recent history, and the extensive search raised awareness of child abductions and led to new ways to search for missing children, with then-President Ronald Reagan naming May 25 as National Missing Children's Day.
During a 2009 interview on ABC's 20/20, Etan's, father Stan Patz revealed the depth of his ongoing heartache, "I still gag with fear that this child must have felt ... when he realized he was being betrayed by an adult," he said.
Convicted child molester Jose Antonio Ramos, an acquaintance of Etan's babysitter, had been identified as a suspect in the case, but was never charged. He remains in a Pennsylvania prison on unrelated charges.