Cadaver Dog Detected The Scent Of A Dead Body In Baby Lisa Irwin's Home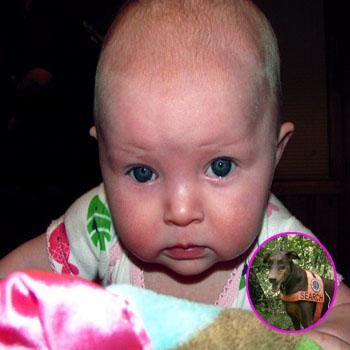 A FBI cadaver dog hunting for missing baby Lisa Irwin detected the scent of a dead body on the floor of her parent's bedroom, according to court documents filed on Friday, RadarOnline.com has learned.
The trained sniffer dog reported a "hit" on Monday inside the Kansas City, Missouri home where the 11-month-old baby was last seen in her crib on the evening of October 3, reported the Wichita Eagle.
Article continues below advertisement
The new development in the case that has captured the attention of the country was detailed in an affidavit that the police filed to support a request for a search warrant of the house, which resulted in an extensive search by police and federal investigators on Wednesday.
As RadarOnline.com previously reported, the FBI, local police and crime dogs combed the home of the missing baby after her parents Jeremy Irwin and Deborah Bradley, and the rest of her family, were barred from the property.
The warrant also revealed that investigators were looking for DNA, fingerprints, cell phones and evidence of human decomposition, and the information that people interviewed in the case "revealed conflicting information for a clear direction."
According to the Clay County Circuit Court documents, the police took blankets, toys, clothes, tape and a tape dispenser from the house.
Earlier on Friday, three witness in two different locations told Good Morning America they were convinced they saw a man carrying a baby matching Lisa's description the night she disappeared from her Missouri bedroom, reported ABCNews.com.
Article continues below advertisement
Mike Thompson told ABC News that he was on his way home from work around 4 a.m. on Oct. 4 when he saw a man in a t-shirt carrying a baby at an intersection about three miles from the Irwin home.
He said it was a chilly 45 degrees but the baby wasn't wearing a coat, the man is described as around 5'7", between 140 and 150 pounds and in his late 30s or early 40s.
A few hours earlier, a couple who live near Irwin and Bradley saw a similar sight that struck them as strange.
"It was shocking because I couldn't imagine anyone outside walking with their baby in the cold like that with no clothes on," the woman told ABC News.
As RadarOnline.com has reported, before the most recent searches, the high profile defense lawyer hired by Lisa's parents claimed that Deborah will not be arrested.
"They want to cooperate," Joe Tacopina told the Today Show on Tuesday, "but they want to make sure the investigation is being done in good faith ... these people are victims, they are grieving parents who are missing their baby."