Baby Lisa's Parents Deny Having Anything To Do With Disappearance, 'Clinging To A Shred Of Sanity'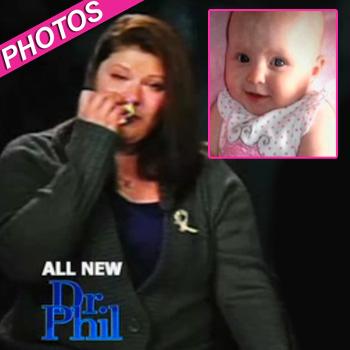 Article continues below advertisement
As RadarOnline.com previously reported, the blue-eyed baby, who would now be a year old, was allegedly put to bed by her mom at around 6.40 p.m. on October 4, 2011, but Bradley later admitted to being "drunk" that night, and further inconsistencies in her story led police to question her account of events.
"I don't think it's an inconsistency," she told Dr. Phil, admitting she couldn't remember exactly if she checked on Lisa or not later in the evening.
When questioned about the timeline, the 25-year-old mom began crying and explained: "People don't understand how difficult it is to wake up and find that somebody has come into your house and taken your baby, and then you are accused of doing something to her, covering something up or whatever insane theories they come up with.
"Then I do all this media and go on TV with the purpose of hoping and praying that someone saw something, and it is literally impossible to remember every single detail, and say exactly the same thing every single time," Bradley claimed.
Article continues below advertisement
Both Deborah and Jeffrey - who appeared on the Dr. Phil Show with their lawyer Joe Tacopina -- who, as RadarOnline.com reported, previously represented convicted killer Joran van der Sloot - became the focal point of the investigation, especially when they stopped cooperating with the Kansas City Police Department and later cancelled two interviews between officers and their other children.
"There are so many hateful people who have picked that apart. I understand the 'looking at the mother thing,' because the world we live in today isn't always a safe and happy place. There are a lot of crazy people, there are a lot of bad parents, and a lot of bad things happen, accidents happen.
"Enough is enough... she is out there somewhere and I am desperate to find her. I am clinging on to a shred of sanity here. I just want my daughter back, I want people to realize that if I had done something I'd be in jail right now," she explained, while breaking down into floods of tears.
After pleading her innocence and begging for sympathy from viewers, Bradley then went on to ask advice from the TV doc about how to help Lisa's 8 and 5-year-old half brothers cope with the trauma.
Article continues below advertisement
"When they bring her up, do I help them get through this? I know that even when she does come home there is going to be permanent damage," she said.
Dr. Phil responded: "Normal as you knew it is a thing of the past. I encourage you to be open about this. Have her picture around the house and celebrate her as well, don't just focus on the pain of her missing.
"Don't feel guilty if you don't think about her every minute."