Missing Baby Lisa's Parents Hire Joran Van Der Sloot's Former Lawyer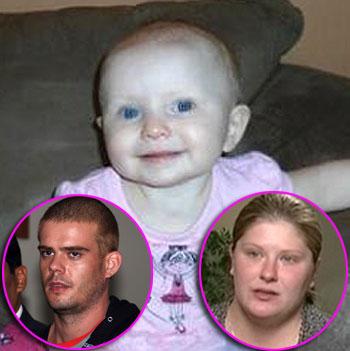 Missing baby Lisa Irwin now has yet another high profile name on her side after her parents hired suspected killer Joran van der Sloot's former attorney, RadarOnline.com has learned.
Prominent New York City defense lawyer Joe Tacopina announced in a press conference on Monday that he will join the team of people representing Kansas City, Missouri couple, Jeremy Irwin and Deborah Bradley, reported NBC Action News.
Article continues below advertisement
Tacopina is best known for representing van der Sloot, the prime suspect in the murder of Alabama teen Natalee Holloway in Aruba, who is currently in prison in Lima, Peru awaiting trial for the murder of Stephany Flores.
The attorney's other notorious cases include representing Melanie McGuire, a fertility nurse accused of murdering and dismembering her husband, defending a NYC police officer charged with raping an intoxicated woman and securing the acquittal of Sopranos actor Lillo Brancato, who was accused of felony murder.
In a news conference held outside the couple's home, Tacopina pledged his support for his new clients and argued that they are not involved in the disappearance of their 11-month-old daughter, who was last seen in her crib on the night of October 3.
"I stand here to ferociously accept their presumption of innocence," he said, according to a report on ABCNews.com.
As RadarOnline.com previously reported, Lisa's mom, Deborah admitted on Monday that she was drunk the night her daughter disappeared.
Article continues below advertisement
Bradley went on to tell the Today Show she expects to be taken into custody because she "was the last one with (the baby,) and judging on how the questioning went, that's kind of the fear that I have.
"The main fear is that if they arrest me, people are going to stop looking, and I'll never see her again, and I'll never know what happened.''
Tacopina credited the distraught mother for the honesty of her boozy confession despite the inevitable scrutiny it would receive.
"She was willing to tell the truth about it, even if it didn't make her look great. I think that goes to her credit. It's her being truthful."
He went on to explain that the indiscretion in her timeline of the events that fateful night was due to her extreme emotional state since the nightmare began two weeks ago. Bradley originally told police she put Lisa to bed at 10:30 pm, but now says it was at 6:40 p.m.
Article continues below advertisement
"On a normal night, when putting your kids to bed, you're not exactly clocking the time," Tacopina said. "She's a mother who is in a high state of trauma who trembles every day and cries. If her recollection isn't what it should be with certain times, I don't think we can be too hard on those inconsistencies, if they are inconsistencies at all.
"I don't recall in recent history anyone under this umbrella of suspicion being so forthright and outgoing, warts and all," Tacopina went on to say. "They're eager because they don't feel they have anything to hide."
Lisa's dad, Jeremy Irwin is standing by his fiancé and the mother of his child even after she admited to drinking a box of wine while babysitting.
As RadarOnline.com previously reported, the family made another high profile hiring last week when private detective Bill Stanton flew to Kansas City to join their team after an anonymous female benefactor offered to pay his bill.
Stanton revealed to RadarOnline.com that the benefactor, who doesn't want to be named, was someone he knew personally before the case who also had distant ties to the family, so she generously hired him to join in the search as well as offering a $100,000 reward for Lisa's safe return or information leading to a conviction.
Article continues below advertisement
"There is a window of time and it gets smaller every day," Stanton told RadarOnline.com in an exclusive interview.
It has not been confirmed whether the mysterious benefactor is also footing the legal bill for Tacopina, who reportedly charges up to $750 an hour.
Baby Lisa will turn a year old on November 1. She has blue eyes and blonde hair, is 30 inches tall and weighs about 28 pounds. The outfit she was last seen wearing consisted of purple shorts and a purple shirt with images of white kittens on it.