Exclusive
$100,000 Reward Offered As PI Says He Is 'Confident' Baby Lisa Will Be Found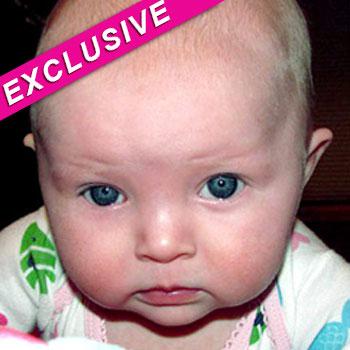 The search for missing Lisa Irwin was stepped up even more on Friday as $100,000 was offered as a reward for information leading to safe return of the Missouri baby, RadarOnline.com has learned.
Meanwhile, the private investigator on the case, Bill Stanton, exclusively told RadarOnline.com that he is "confident" Lisa will be found.
"If I wasn't feeling hopeful I wouldn't be here, but I can't say what new leads we have," the former New York City cop explained.
Article continues below advertisement
Stanton told a news conference outside of parents' Jeremy Irwin and Deborah Bradley's Kansas City home that the reward money would also be given out in the event of a conviction in the case, reported KMBC.com.
The origin of the $100,000 was not revealed apart from it being from a female benefactor.
As RadarOnline.com previously reported, Lisa was last seen sleeping in her crib on October 3 at 10.30 p.m.
Family members are now speaking out in support of the distraught couple following reports that the police are suspicious of their story.
"Debbie loves that baby to pieces, she is a great mom," her great-aunt told RadarOnline.com in an exclusive interview.
"She would never harm any of the kids," she said, explaining that little Lisa made the perfect compliment to Debbie and Jeremy's children from previous relationships.
Article continues below advertisement
Meanwhile, Stanton went on to tell the news conference how he came to be working with the distraught family in the hunt for their missing daughter.
"They reached out to me, they called me and they said get out there and help," he explained. "I have connections with friends, people, a consortium," adding that he will pass any information he receives to the Kansas City police department.
"I've worked with many police departments both on camera and not on camera...and I can say they're right at the top of the list based on my observations," said the high profile investigator. "I want to thank the Kansas City police department. They are doing a phenomenal job."
The P.I. who is known as 'Wild Bill' flew to Kansas City earlier in the week to help the family with the investigation.
On Friday, Lisa's parents released home videos of their daughter in the hope they would trigger someone's memory and help bring her home safely, as RadarOnline.com reported.
Baby Lisa has blue eyes and blonde hair, is 30 inches tall and weighs about 28 pounds. The outfit she was last seen wearing consisted of purple shorts and a purple shirt with images of white kittens on it.