Parents of Missing Baby Lisa Release Home Videos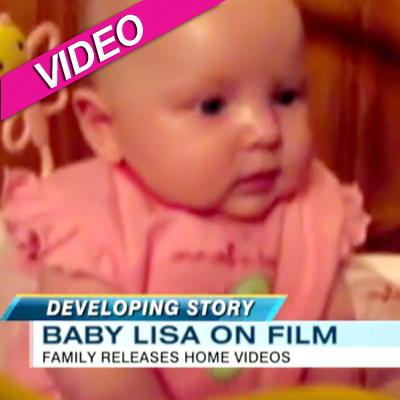 The parents of a missing infant named Lisa released home videos of their child Friday, in hopes of keeping the media's attention as the search for their missing child inches toward its' third week.
In the videos released by Jeremy Irwin and Deborah Bradley of Kansas City, Missouri, we see the baby, wearing a shirt that reads "Daddy loves me" cooing while her mother can be heard saying, "Look at the messy baby, Lisa!"
Article continues below advertisement
There are no leads in the 11-day disappearance of the baby, officials said.
Famous kidnapping survivor Elizabeth Smart told ABC News her parents are wise to use the media to help get the word out, calling it "one of the best things the family can be doing."
Private Investigator Bill Stanton, who's working with Lisa's parents, told ABC News he's received e-mail tips on the case and forwarded them to police. He added that the devastated parents are cooperating with authorities.
Watch the video on RadarOnline.com
"I am seeing a family's heart literally torn out of its' chest," Stanton told the show.
The baby has blue eyes and blonde hair, is 30 inches tall and weighs about 28 pounds. The outfit she was last seen wearing consisted of purple shorts and a purple shirt with images of white kittens on it.
If you have information on Lisa's disappearance, call the Kansas City Police Department hotline at 816-474-TIPS.