Exclusive
Baby Lisa's Mom 'Loves Her To Pieces,' Not Behind Disappearance, Says Family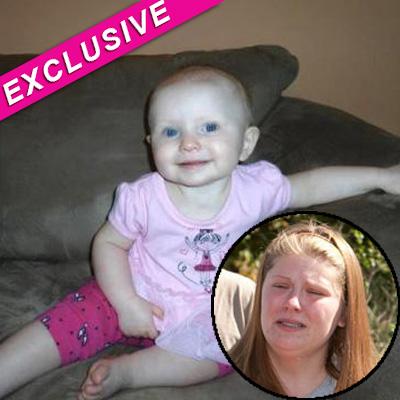 It has been almost two weeks since baby Lisa vanished from her home and the mysterious disappearance has devastated her entire family, who refuse to believe that her parents could be responsible, RadarOnline.com has exclusively learned.
As RadarOnline.com previously reported, 10-month-old Lisa Irwin was last seen sleeping in her crib on October 3 at 10.30 p.m. in the home of her parents, Jeremy Irwin and Deborah Bradley, in Kansas City, Missouri.
Article continues below advertisement
Now family members are speaking out in support of the distraught couple following reports that the police are suspicious of their story.
"Debbie loves that baby to pieces, she is a great mom," her great-aunt told RadarOnline.com in an exclusive interview. "She would never harm any of the kids," she said, explaining that little Lisa made the perfect compliment to Debbie and Jeremy's children from previous relationships.
While the couple are engaged, Deborah is still married to Sean Bradley, with whom she has a son Michael, 6, as RadarOnline.com previously reported.
"He (Jeremy) had a boy, she had a boy, then they had the baby and it competed the family and they were going to get married," explained her great-aunt.
And, other family members agree that, "Jeremy makes her happier than she has ever been in her life."
Bradley's great aunt is disgusted that either the police or the public could even imagine that Debbie or Jeremy could be responsible for whatever has happened to their daughter.
Article continues below advertisement
"People always assume that it's the parents' fault. I don't feel in my heart that she did it," she revealed. "I can totally understand how she feels, I'd be overwhelmed."
As RadarOnline.com reported, Bradley believes that her arrest is "inevitable," according to Jeremy's sister, Ashley Irwin.
Ashley said: "It's what the police do. They don't have any leads so they just have to pin it on somebody."
Bradley's aunt went on to tell RadarOnline.com that she is still hopeful her great, great-niece will be found unharmed.
"I don't know who's got her and where she's at but I just pray they find her safe and sound.
"I am so devastated. She is a beautiful thing and whatever happened, I wish that someone drops her off at the police station," she said, adding that she believes justice will prevail one way or another.
"Someone must know and are probably scared to say anything. When the people turn up even if the police don't get them, then God is going to punish them eventually."
Article continues below advertisement
The aunt, who lives in a different part of Kansas City, plans to make a banner with other family members reading, "For the love of baby Lisa," and to distribute flyers around the city.
"I've been telling everyone to look because she could be anywhere."
Earlier on Friday, Lisa's parents released home videos of their daughter in the hope they would trigger someone's memory and help bring her home safely, as RadarOnline.com reported.
Baby Lisa has blue eyes and blonde hair, is 30 inches tall and weighs about 28 pounds. The outfit she was last seen wearing consisted of purple shorts and a purple shirt with images of white kittens on it.
If you have information on Lisa's disappearance, call the Kansas City Police Department hotline at 816-474-TIPS.
RELATED STORIES:
Parents of Missing Baby Lisa Release Home Videos