Parents Of Missing Baby Lisa No Longer Talking To Cops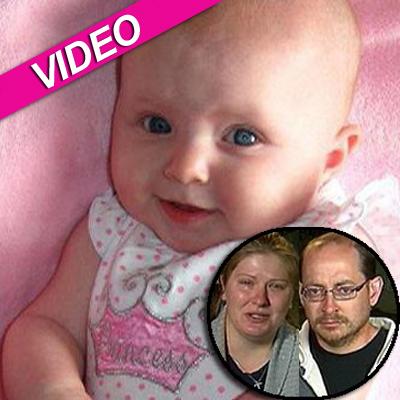 Jeremy Irwin and Deborah Bradley, the Kansas City, Missouri-based parents of a missing infant named Lisa, will hold a news conference Friday, less than 24 hours after they decided to stop talking with police about the disappearance of their 10-month-old because they felt investigators were using rough tactics with them.
"From the start when they've questioned me, once I couldn't fill in gaps, it turned into 'You did it, you did it,'" Bradley told Good Morning America on Friday. "They took a picture down from the table and said 'Look at your baby! And do what's right for her!'
Article continues below advertisement
"I kept saying, 'I don't know' ... I just sat there. I didn't even ask to leave," she said. "I just let them keep asking questions."
Irwin echoed her sentiments about the perceived unfair treatment.
"We were in interrogated for a really long time Tuesday there again, answering questions….I just couldn't take it anymore," Irwin told GMA. "I told them I had to have a break -- no more questions today. I asked to be let go, and they let me go from police station.
"An hour later was when we saw the press conference from them."
Kansas City police spokesman Steve Young said Thursday: "Tonight, they decided to stop talking to detectives, and I don't have to illustrate how that affects the investigation. That speaks for itself."
"The mother and father no longer want to talk to detectives," Young said. "From an investigative standpoint, we enjoyed their cooperation. So far, it has been very beneficial to the case. But yeah, you can imagine it doesn't help the case that they're not talking."
Article continues below advertisement
He continued, "Like I've said before, the cooperation of the parents is -- they live in the house. They intimately have information of what's been going on.
"They know the child, they were maybe one of our best bets to help find this child," he said. "This doesn't help the investigation."
On Thursday, police said Irwin and Bradley are not considered suspects in the disappearance at this time.
Irwin and Bradley, who claim Lisa disappeared from her crib late Monday or early Tuesday, responded to police in a statement Thursday.
"We've been cooperative from day one," they said. "And we continue to assist the police with the investigation."
On Friday's GMA, Bradley reiterated the couple will "continue to ask and answer all the questions the best we can and do everything they tell us to do and so I mean, we've done everything we can do."
After about 100 officers extensively searched nearby wooded and industrial areas Thursday, police said they have no suspects or leads; they did not clarify how they would continue working the case without the cooperation of the parents.
Article continues below advertisement
The baby has blue eyes and blonde hair, is 30 inches tall and weighs about 28 pounds. The outfit she was last seen wearing consisted of purple shorts and a purple shirt with images of white kittens on it.
If you have information on Lisa's disappearance, call the Kansas City Police Department hotline at 816-474-TIPS.
RELATED STORIES:
Redmond O'Neal To Judge: Give Me One More Chance!