Norway Shooter's Chilling Description Of 'Gruesome And Barbaric' Massacre Causes Courtroom Chaos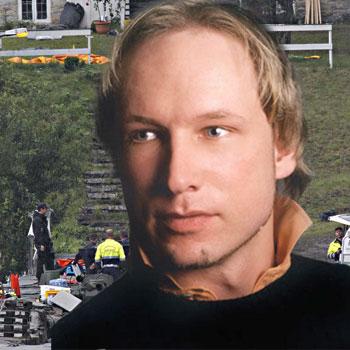 By Debbie Emery - RadarOnline.com Reporter
The occupants of a Norwegian courtroom collapsed into a flood of tears as the shooter in the country's deadliest massacre recounted in horrific detail the day he killed 77 of their friends and family members last July.
Anders Behring Breivik had no regard for the feelings of his victims' loved ones as he told the Oslo courtroom how he shot panicked teens at point blank range on Utoya island where the Labour Party was holding a youth camp, reported the Telegraph.co.uk and the cold-hearted testimony was rebroadcast to 17 other courts across the country.
Article continues below advertisement
"Some of them are completely paralyzed. They cannot run. They stand totally still. This is something they never show on TV. It was very strange," revealed Breivik as he recalled his "gruesome, barbaric acts."
As RadarOnline.com previously reported, earlier in the trial the 33-year-old described his killing spree as "the most sophisticated and spectacular political attack committed in Europe since the second world war," and went on to justify it by saying it was done in the name of "revolutionary nationalism."
After setting a bomb off in Oslo that killed eight, Breivik then dressed as a policeman and took a ferry to the island, explaining how he made sure to bring plenty of drinking water because he knew he would get a dry throat from the stress of killing people.
As he pointed the gun at his first victims, Monica Boesei, a camp organizer, and off-duty police officer Trond Berntsen, a security guard, "My whole body tried to revolt when I took the weapon in my hand. There were 100 voices in may head saying 'Don't do it, don't do it,'" he said.
Article continues below advertisement
The killer said the first shot was "difficult," but then the "fight-and-flight modus" kicked in and the rest of the rampage got easier, as he ploughed through victims in a local café who were frozen in panic or pretending to be dead.
"'You will die today Marxists,' I yelled," recalled Breivik, who had hoped to kill all 600 people on the island.
Before heading out on his rampage, Breivik studied past killers including Oklahoma City bomber Timothy McVeigh, and carefully researched the composition of the truck bomb that he used to blow up a federal building in 1995 killing 168 people.
He was also inspired by Islamist group Al-Qaida, which he called: "the most successful revolutionary movement in the world" and said it should serve as an inspiration to far-right militants, even though their goals are different.
"I have studied each one of their actions, what they have done wrong, what they have done right. We want to create a European version of Al-Qaida," he said.
Breivik's trial is slated to last 10 weeks, and in that time the court will determine whether he'll be sent to prison or a mental hospital. If he's declared mentally competent to stand trial, he faces a maximum prison sentence of 21 years.