Exclusive
Charles Manson's Alleged Son Hopes To Get A Court Order For A DNA Test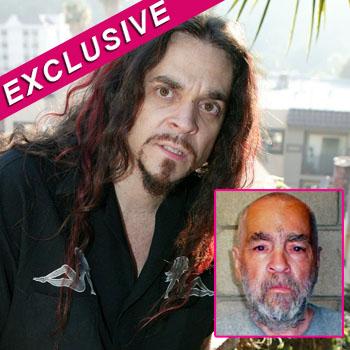 By Debbie Emery - RadarOnline.com Reporter
Having tracked down the mother who had him adopted as a baby, Matthew Roberts was even more shocked when she told him that his father may be notorious cult leader Charles Manson, and now he is hoping a court-ordered DNA test will prove his paternity once and for all.
"We've been trying to do an DNA test, even though it is a federal offence to take DNA out of a prison, so now we are trying to get a court order," Roberts told RadarOnline.com in an exclusive interview.
Article continues below advertisement
"We did it once before and it was inconclusive because the sample was tainted. We just did another test with an alleged grandson that came up negative, but it's not known for certain if he is really related," explained Roberts, who claims new genetic evidence is expected to reveal that MMA fighter Jay Freeman, whose nickname is Charles Manson III, is not the helter skelter killer's real grandson.
As RadarOnline.com previously reported, 77-year-old Manson had his 12th parole application rejected earlier this month and he remains incarcerated at Corcoran State Prison in Central California.
Manson was originally sentenced to death for his part in the cult style murders by members of his commune, The Family, but it was modified in 1977 to life in prison with the possibility of parole.
As for 44-year-old Roberts, he has been writing to the man who may be his father for some time but the two have never met. "I have corresponded with him through the mail and have letters and cards from him," he told RadarOnline.com. "The one time I asked about visiting he claimed people were intercepting his letters and they wanted to hurt me and they were getting out of jail soon.
Article continues below advertisement
"I've had death threats off crazy people, there are crazies out there."
Roberts' birth mother, who he said prefers to remain anonymous, became involved with Manson's murderous cult and took part in an orgy with him in 1967. "The dateline marks up perfectly, he was out of jail at the time and the resemblance between us is uncanny.
"There are a lot of similarities – I am a vegetarian, a musician and I moved to California to work," explained the rocker. "When I first started writing to him, I was living in Mission Hills where he lived when he committed the shenanigans he is most well known for."
Through their letters, Roberts has become very familiar with the man who may be his father and become used to his erratic behavior.
"He can be coherent at times and at other times he seems crazy. He is very manipulative," Roberts told RadarOnline.com. "All that matters to him is getting postage stamps which he can use as currency in prison. He gets very paranoid and can turn on a dime, he is mad at me right now and not talking to me."
Article continues below advertisement
The object of Manson's wrath is the line in one of Roberts' songs with his band New Rising Son that asks: 'What would do if you found out Charlie Manson raped your mom?'
"My mom said she was raped, then she came out and said it may have just been male vigor," explained Roberts, adding that rape is a very controversial topic in prison and it is worse than Manson being accused of murder.
Rather than being disgusted at the idea of being blood relatives with one of America's most notorious criminals, Matthew said he just wants to know who his real dad is.
"I wouldn't care if he is (my father), I just want to know the truth once and for all. The uncertainty is really starting to wear on me. It is something you definitely want to find out one way or another.
New Photo Of Charles Manson Released As Killer Applies For Parole For The 12th Time
"I was pretty shocked when my mother told me she thought he was my dad. It was a long arduous process as she told me piece by piece in a puzzle that fit together, but she didn't know for sure," he explained.