Exclusive
The Most Notorious Murder Trials Of All Time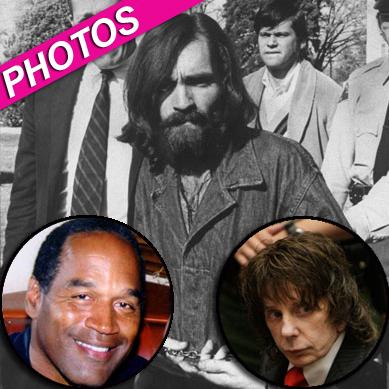 by RadarOnline.com Staff
Casey Anthony's murder trial will go down in history as one of the most shocking verdicts of all time, and now RadarOnline.com is taking a look back at other notorious murder cases which have gripped the world.
From Phil Spector and Albert Fish to Aileen Wuornos and Diane Downs, murder trials have fascinated people for years.
And while some of the accused such as OJ Simpson and Casey Anthony, have walked free, the likes of Scott Peterson and Charles Manson have been put behind bars.
Article continues below advertisement
No one will ever forget serial killers John Wayne Gacy and Jeffrey Dahmer – each who targeted boys and young men. Between the two of them, they murdered at least 50 people. Each would die in prison: Gacy by lethal injection, while Dahmer was beaten to death by a fellow inmate.
And then there's serial killers, Ted Bundy and David 'Son of Sam' Berkowitz who were both found guilty of torturing, raping or murdering more than 40 people between them.