Exclusive
Casey Anthony Trial: Tears & Laughter During Closing Arguments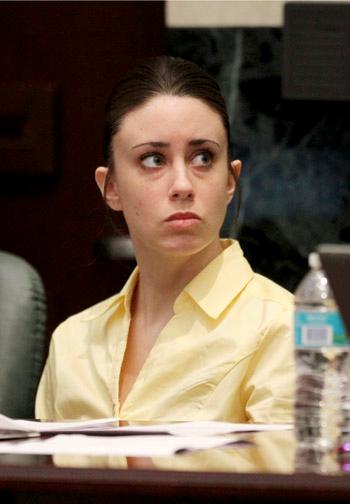 In an unusually long day, the Casey Anthony case didn't wrap up until 6:37 pm EDT, and RadarOnline.com has your highlights of what went on.
It was the day for closing arguments, with the prosecutor and the defense team addressing the jury.
Prosecutor Jeff Ashton said there was no doubt two-year-old "Caylee Anthony died at the hands" of her mother, Casey. He was concise and dramatic and wrapped up in less than two hours while Casey sat at the defense table crying.
Article continues below advertisement
Things didn't go as smoothly for Team Anthony. Judge Belvin Perry issued a ruling that Casey's defense could not raise in closing arguments the allegation that Casey became a chronic liar as a way of coping with the abuse they claimed she'd experienced at the hands of her father and brother.
"There is absolutely no evidence that the defendant was sexually molested by her father or her brother," the Judge said in explaining his decision.
With that out the window, Anthony's lead attorney Jose Baez could offer no excuse for why his client lied with such frequency. He even acknowledged that the jurors "may believe she's a slut and a liar," but that doesn't make her a murderer.
The proceedings went further downhill when Baez accused prosecutor Ashton of laughing at him and making unprofessional facial expressions.
Judge Blevin excused the jury, and admonished both attorneys about their behavior.
Article continues below advertisement
Another of Anthony's attorneys, Cheney Mason, wrapped up the defense's closing argument, saying that "the state hasn't proven guilt."
Judge Blevin, who had hoped to give the jury his final instructions before shutting down for the night, eventually made what he called "an executive decision" and ordered everyone to get a good night's sleep and return at 8:30 am Monday.
RadarOnline.com will livestream the proceedings.