Amanda Knox In Tears As She Appeals Her Murder Conviction In Italy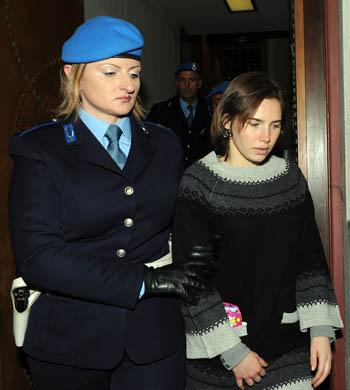 Amanda Knox took the stand Saturday in Perugia, Italy, personally appealing the murder conviction that sent her to prison for 26 years.
The Seattle native and her former boyfriend Raffaele Sollecito were found guilty in the murder and sexual assault of her roommate, Meredith Kercher. The two woman were both on a student exchange program in Perugia when Meredith was found with her throat slashed. A third person, a man from the Ivory Coast was convicted in a separate trial.
Article continues below advertisement
Appealing her conviction today, Amanda told the packed courtroom she is not the "dangerous, diabolical, jealous" person the prosecution made her out to me.
"I am innocent. Raffaele is innocent. We did not kill Meredith," she proclaimed.
And speaking directly to Meredith's family, who had traveled from the UK for the hearing, Knox said, "I am sorry Meredith is no longer living. I too have little sisters and the idea of their suffering, their loss, terrifies me."
Knox has rarely been out of the headlines in Italy since the beautiful American was arrested in 2007. Her family has kept their belief in her innocence on the front burner with numerous appearances on the Today show and other news programs.
Knox and Sollecito are asking that the court review all the evidence, especially the disputed DNA evidence found on a knife prosecutors claim was the murder weapon.