Exclusive
Michele Bachmann Confuses John Wayne With John Wayne Gacy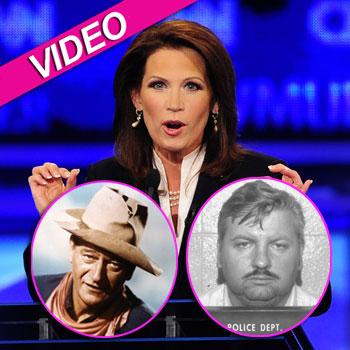 Hollywood legend John Wayne must be turning in his grave!
Presidential hopeful Michele Bachmann, who is becoming as famous for her on-air gaffes as she is her Christian right-wing views, made another major faux pas Monday.
The Minnesotan made a triumphant return to her hometown of Waterloo, Iowa to officially announce her run for presidency, but when a microphone was placed in front of her things all went a little awry.
Article continues below advertisement
Explaining that just like John Wayne, the all-American hero and cowboy, she too was from Waterloo, Iowa - hence she chose the location to announce her candidacy.
"Well what I want them all to know is that just like John Wayne was from Waterloo, Iowa... that's the kind of spirit that I have, too," Bachmann told a Fox News reporter.
However, it's another John Wayne – John Wayne Gacy, the serial killer, that actually lived in Waterloo – the veteran actor was from Winterset, around 150 miles away.