Ex-New Orleans Cops Sentenced For Katrina Killings On Danziger Bridge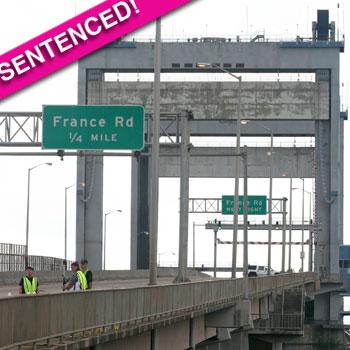 By Debbie Emery - RadarOnline.com Reporter
Five former New Orleans police officers have been sentenced to between five and 65 years in prison for shooting innocent people in the aftermath of Hurricane Katrina.
The ex-cops were accused of shooting the unarmed civilians on the Danziger Bridge on September 4, 2005, six days after the deadly storm devastated the Louisiana city, CNN.com reported.
Last August they were convicted of a combined 25 counts of civil rights violations and on Wednesday U.S. District Judge Kurt Engelhardt handed down the sentences, the severest of which was to former officer Robert Faulcon who got 65 years for his role in two deadly shootings.
Article continues below advertisement
Former sergeants Kenneth Bowen and Robert Gisevius got 40 years for their roles in the incident, while ex-officer Robert Villavaso was sentenced to 38 years. Retired Sergeant Arthur Kaufman, who was assigned to investigate the shootings but instead helped orchestrate the cover-up, was handed down six years.
According to the Justice Department, the convicted killers opened fire on an unarmed family, killing 17-year-old James Brissette and wounding four others. Minutes later, Faulcon shot and killed Ronald Madison, a 40-year-old man described by officials as having severe mental disabilities who was trying to flee the scene when he was shot.
Judge Engelhardt went on to lambast prosecutors for cutting overly lenient plea deals with five other officers who cooperated with the civil rights investigation, and received sentences ranging from three to eight years.
"These through-the-looking-glass plea deals that tied the hands of this court ... are an affront to the court and a disservice to the community," said the outspoken judge, who also slammed other officers who had pleaded guilty and testified against those who went to trial.
MORE ON:
Celebrity Justice
Article continues below advertisement
"Citing witnesses for perjury at this trial would be like handing out speeding tickets at the Indy 500," said Engelhardt, who questioned the uneven "blind" sentences of many of the accused.
The successful convictions came as a result of a widespread investigation into what the Justice Department's Civil Rights Division called "patterns or practices" of alleged misconduct by New Orleans police in the aftermath of Katrina, which killed nearly 1,500 people in Louisiana and more than 1,700 across the Gulf Coast. The shootings occurred during a week of dire flooding, rampant looting and death by drowning, when police resources were strained by suicides and desertion among their ranks, argued the defense.
Wednesday's decision hasn't healed the wounds of the victims' families, and Ronald's brother, Lance Madison, expressed his disgust at each defendant.
"When I look at you, my pain becomes unbearable. You took the life of an angel and basically ripped my heart out," he said.
"You tried to frame me, a man you knew was innocent, and send me to prison for the rest of my life," Madison, who was arrested on attempted murder charges and held for three weeks after police falsely accused him of shooting at the officers on the bridge, told Kaufman.