Miami Cannibal Was Under Voodoo Curse Says Girlfriend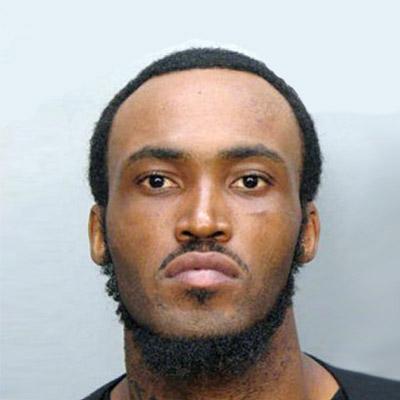 The man now known as the Miami Cannibal was a bible-toting, scripture-reading gentle soul who was under the influence of a Voodoo curse his girlfriend says.
Rudy Eugene turned into a violent, raging zombie as he ate the face of a homeless man in Miami Beach before being shot dead by police. Now Eugene's bizarre crime has left the nation and people close to him searching for answers.
"He loved God. He always read the Bible he would give you knowledge on the Bible," Eugene's girlfriend told the Miami Herald in a new interview. "Everywhere he went his Bible went."
Article continues below advertisement
The girlfriend, who asked that her name not be used, also revealed details of Eugene leaving their home hours before committing his gruesome crime. "When he left he had his Bible in his hand," she said.
His horrific act was so out of character that she believes he was under a Voodoo curse. "I don't know how else to explain this," she told CBS4-TV in Miami. And a close friend of Rudy's added: "Rudy was battling the devil."
Eugene was Haitian; his girlfriend is not and said she did not believe in Voodoo until now.
"That wasn't him, that was his body but it wasn't his spirit. Somebody did this to him," she said, also speculating that perhaps he was drugged unknowingly.
Eugene and his girlfriend had an on-again, off-again five-year relationship and on his final day he left their home at 5:30 am saying he was going to catch up with a "homeboy" according to the girlfriend.
Article continues below advertisement
She told the Herald he looked through a closet before leaving and one hour later called and told her his car broke down. "He said, I'll be home, but I'm going to be a little late.' Then he said, 'I'm going to call you right back.'"
But he never did and instead went on to commit one of the most horrific crimes in recent memory, tearing the flesh off homeless man Ronald Poppo on May 26 and growling like a wild animal before police were forced to kill him.
That image is far from what his girlfriend remembers. "If someone was lost or didn't know God, he would tell them about him,'' she said. "He was a believer of God."
And she added in her interview with the Herald: "Something happened out of the ordinary that day. I don't want him to be labeled the Miami Zombie."
Eugene's mother, Ruth Charles, shared that sentiment with CBS-4 saying: "Everybody says that he was a zombie, but I know he's not a zombie; he's my son."
Article continues below advertisement
Joe Aurelus, the friend who said Eugene was battling the devil, also added," He was going through a lot with his family." Aurelus was with Eugene two weeks ago and said they watched a movie while Eugene held a bible.
And while Eugene smoked pot, national drug experts believe he may have been under the influence of the synthetic drug Bath Salts, which can cause LSD-type hallucinations and the onset of sudden rages characterized by vastly increased strength.
They mystery of Eugene's final day grew deeper as one friend, identified only as Bobby, told CBS4 that Eugene said he had a secret but did not reveal it.
"He said he had something that he wanted to tell us, but he didn't know that we would understand," Bobby said.
He took that secret to his grave.
RELATED STORIES:
Cannibal Seen Running Around Miami Naked A Week Before Attack On Homeless Man