Exclusive
Cannibal Seen Running Around Miami Naked A Week Before Attack On Homeless Man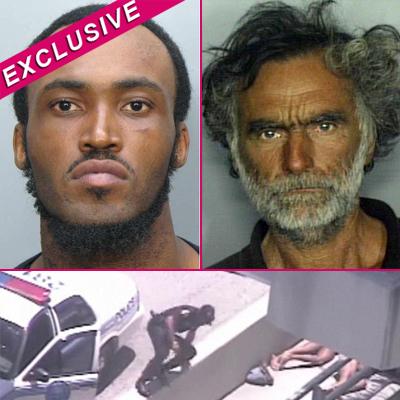 By Amber Goodhand - Radar News Editor
Rudy Eugene, the man who was shot and killed by police after a horrifying cannibal attack on a homeless man, was spotted walking around naked in Miami in the weeks leading up to the incident, RadarOnline.com has exclusively learned.
The 31-year-old man was discovered on May 26 lying naked on top of the victim, eating his face in a gruesome Silence of the Lambs-style rampage, before a Miami police officer shot and killed him.
Article continues below advertisement
Authorities said they suspect that Rudy was under the influence of a potent synthetic drug called "bath salts" that's known to trigger violent behavior.
An eyewitness exclusively tells RadarOnline.com that they saw Rudy walking the streets of Miami a week before the attack, naked.
"He was just walking the streets as if it were normal to be totally naked," the source said.
"It was early in the morning about a week before he attacked the homeless guy when I saw him. It was hard to tell if he was on drugs, but at the time we just thought it was funny."
RadarOnline.com has learned that some eyewitnesses even took photos of Rudy as he roamed the streets naked and are now trying to sell them to various media outlets.
The victim, Ronald Poppo, 65, remains in critical condition and barely recognizable at the Jackson Memorial Hospital's Ryder Trauma Center, just blocks from where he was attacked.
RadarOnline.com exclusively learned the local county will be paying Ronald's $100,000 to $200,000 reconstructive surgery tab.