Miami Cannibal Was 'Beautiful Person' Say Friends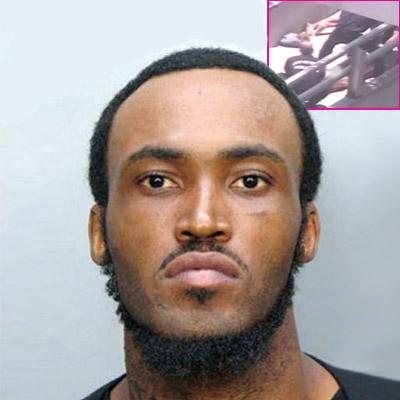 By Debbie Emery - RadarOnline.com Reporter
Rudy Eugene has rocketed to infamy as the face-eating cannibal who was shot dead while chewing on his victim's flesh, but RadarOnline.com has learned that his former classmates in Florida knew a very different side to him.
The 31-year-old is remembered as an easy-going teen who avoided getting into trouble and was ready to help anyone, reported the Sun-Sentinel.
"No, that's not him," said Victoria Forte, a former classmate from North Miami Beach High School. "Drugs did this to him. Drugs took over a person we knew as a beautiful person."
Article continues below advertisement
As RadarOnline.com previously reported, Eugene was found lying naked on a homeless man, Ronald Poppo, eating his face in a gruesome Silence of the Lambs style rampage. Eyewitness Larry Vega flagged down a passing police man who shot and killed the crazed attacker when he didn't respond to demands that he get off his victim.
Police suspect that he was on a potent synthetic drug called "bath salts" that have reportedly caused violent behavior, but nothing as obscene as cannibalism before.
"A key issue is that nobody ever knows what's in them. They can be something mild one week, something very strong the next week," explained Jim Hall, director of Nova Southeastern University's Center for the Study and Prevention of Substance Abuse.
After being a well-behaved student during his high school years, Eugene's first brushes with the law were relatively minor and included an arrest in 1997 for battery, which was later dropped, and numerous arrests for marijuana (the last being in 2009) and one for selling drugs near a school.
Article continues below advertisement
An autopsy and toxicology screening expected to be carried out by the Miami-Dade Medical Examiner's Office will reveal if he had moved on to the new "front burner" of drugs, which comprise of chemicals called mephedrone and MDPV, and are usually swallowed or snorted.
"This type of behavior is very unexpected," Cassandra Metayer, who went to middle and high school with Rudy and whose cousin was once married to him, told the Miami Herald. "He was a good person, a true friend. He was a nice, outgoing ready-to-help-anybody kind of guy. I'm not just saying that; he really was that person."
According to public records, Eugene was married from 2005 through 2007; his divorce from Jenny Ductant was finalized on January 7, 2008. The divorce case file mentions nothing about children.
Poppo, 65, is currently in critical condition and barely recognizable recovering from his horrific injuries at the Jackson Memorial Hospital's Ryder Trauma Center. Efforts to contact his family have so far been unsuccessful.