Exclusive
Cops Investigating Gruesome & Horrifying Face Eating Victim Crime Scene Photos Leak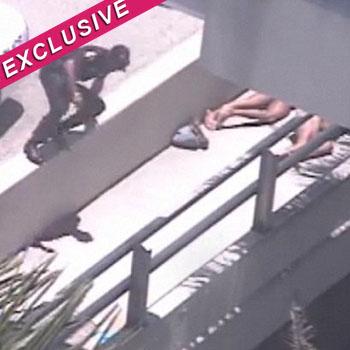 By Alexis Tereszcuk - RadarOnline.com Entertainment Editor
Gruesome crime scene photos of the horrific incident where a naked man was shot and killed after eating the face off another living man have been leaked from the police department RadarOnline.com has exclusively learned, and the cops are planning to start an investigation into who leaked the photos.
Like a real life horrifying scene from Silence of the Lambs, Rudy Eugene was spotted over the weekend chewing on the face of an unidentified victim, both men were naked, and when police arrived they shot and killed Eugene.
Article continues below advertisement
Shocking photos from the crime scene and a photo of the victim's gory and bloodied face after the attack were offered to RadarOnline.com by someone looking to make money.
One photo was of the victim with his skin torn off his face, bloody and red, with his eyes out of place. The second photo showed Rudy Eugene face down on the ground naked with blood pouring out of his back and the victim next to him in a green shirt and his head completely covered with blood with two police officers standing over them.
RadarOnline.com refused to purchase or publish the shocking and horrifying pictures.
RadarOnline.com contacted the Miami Police Department and Detective Sanchez said "No one is supposed to release those photos. It is a leak. We have not released anything and it is still an investigation."
Det. Sanchez said they will open an investigation and said "it is illegal to take pictures of a crime scene; it is the Dale Earnhardt law that it is illegal to solicit payment for photos of a crime scene."