Naked Man Killed By Miami Police While 'Eating' Face Off Victim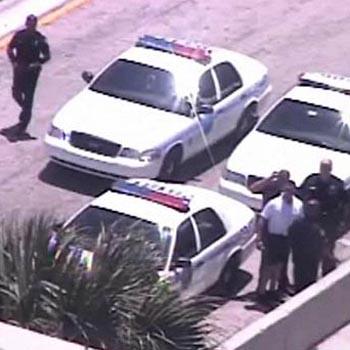 It was sight more gruesome than any featured in Silence of the Lambs.
A man was shot and killed by Miami police Saturday as he attacked another man, eating off much of his face!
The truly bizarre incident happened right outside The Miami Herald building and much of the attack was caught by security cameras.
The unidentified victim is now in intensive care at Ryder Trauma Center in Miami.
Article continues below advertisement
He suffered severe facial injuries, with witnesses saying the mad attacker chewed at his face and eyes. Both men were naked, The Herald is reporting.
Armando Aguilar, who heads the local chapter of the Fraternal Order of Police, told the local CBS station that he'd spoken with the officer who first responded to the scene. Aguilar said the officer saw what the man was doing, and ordered him to stop. He said the man growled at the officer, and then returned to his meal.
Police sources told the station the victim had virtually no face and was unrecognizable by the time he was rescued.
"As with all active investigations, there are many details that cannot be discussed until we have gathered all the facts," a police statement said on Sunday. "Detectives are still trying to gather details and urging any passersby who might have seen something to contact them.''
RELATED STORIES: