Exclusive
Transformers 3 Victim's Attorney Calls Paramount 'Pretty Pathetic'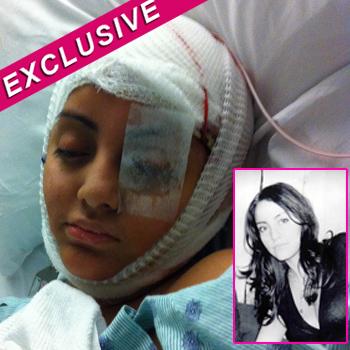 Article continues below advertisement
After Gabriela's accident in September 2010, Paramount publicly announced that they would help the family financially and take care of all the medical bills, but they never did and it took a lawsuit and more than two years to finally get what Smith says they promised all along.
"This victory came with a lot of effort against a company that claimed to the media that they would make the effort to take care of Gabby and her medical bills, when in reality they tried to do everything they could to avoid responsibility," Smith told RadarOnline.com in an exclusive interview.
"They were busy grossing about a billion dollars off the movie, and they can't step up to the plate to pay about $700,000? The taxpayers of Illinois ended up having to pay the bills for the damage that was done. That's pretty pathetic, in my opinion."
Gabriela's extensive medical bills eventually forced her family onto Medical Aid — and although she's been released from the hospital, she continues to undergo surgeries and attends regular rehabilitation treatments.
MORE ON:
Celebrity Justice
Article continues below advertisement
"She is on her feet but has left-sided weakness. She has a substantial brain injury that has affected her so it will take a lot of care in terms of someone being around to watch her as the years go on," Smith said.
"We're hopeful that she will continue to improve. However, after the two-year period with a brain injury, doctors predict you've usually maximized your recovery potential. The reality is that she's unlikely to ever have substantial employment."
Overall, Smith says he accepts the settlement but adamantly notes that Paramount gravely "failed" when it came to the principal of the matter in paying Gabriela's medical bills.
"We're pleased with the outcome," Smith concludes. "I wouldn't have settled the case if I wasn't comfortable with the amount."
Paramount issued RadarOnline.com the following statement: "We are pleased that the Cedillo family has agreed to move forward with the settlement. This was a tragic accident and our thoughts and prayers remain with Gabriela."